UK construction output fell slightly in August, ONS says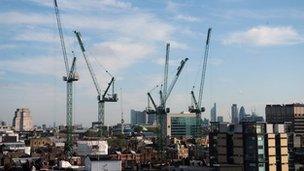 Output in the construction industry fell slightly in August, although house-building was up, according to the Office for National Statistics (ONS).
UK construction output slipped 0.1% in August, the ONS said. House-building picked up 1.6%, but activity in new public projects and repairs fell.
The figures mark a sharp slowdown from July, when construction output rose by 2.8%.
However, the August figure still means output is up 4% on the year.
That it is the strongest annual increase since December 2011.
Construction activity accounts for about 6.3% of the economy.
Chris Williamson, chief economist at Markit, said the August figures point to construction providing a strong boost to the economy in the third quarter.
"The turnaround so far this year has been quite remarkable," he said. "Having been contracting at an annual rate of 12.4% last December, the industry is now growing at a rate of 4%.
"The increasingly broad-based upturn (in construction) suggests that companies are beginning to increase their capital investment, which bodes well for the sustainability of the economic recovery."
The government has been trying to encourage more house-building and says its Help to Buy scheme will bolster supply as well as demand.
A private sector survey last week suggested that growth in the construction sector was stronger in the third quarter. The Markit/CIPS construction purchasing managers' index hit a near six-year peak in August before easing slightly in September.
Related Internet Links
The BBC is not responsible for the content of external sites.