Barclays to join Help to Buy mortgage scheme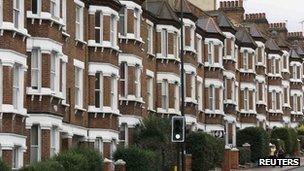 Barclays has become the latest bank to announce it is signing up to the government's Help to Buy scheme.
This means about two-thirds of lenders in the UK's mortgage market have said they will sign up to the project.
The government's initiative is designed to allow those who can afford only small deposits to buy a home.
The move leaves Nationwide Building Society as the UK's only major mortgage lender yet to decide whether to join.
Barclays has not yet published details of any rates or timing of mortgage products that fall under the Help to Buy umbrella.
"We are pleased to confirm that Barclays will participate in the Help to Buy mortgage guarantee scheme," a spokesman for the bank said.
Under the latest phase of the scheme, buyers across the UK only need to provide a small deposit, with the government offering a guarantee of 15% of the loan to the lender - for a fee - to encourage the bank or building society to offer the loan.
That fee charged to the lender is up to 0.9% of the original loan level. This is a one-off fee dealt with entirely by the lender, which guarantees 15% of the mortgage for seven years.
Borrowers who apply will face checks to make sure that they can afford the mortgage payments.
The scheme will be available for first-time buyers and home movers borrowing to buy new and old homes valued at no more than £600,000. It is expected to continue for three years.
Products are already on the market from RBS/NatWest and the Halifax, with Santander, HSBC, Virgin Money, Lloyds, TSB and Aldermore all saying that they will start offering products by the start of January.
The government has said that the scheme will correct a problem in the market that locks out a number of tenants paying high rents and unable to save enough for a deposit, even though they could afford mortgage repayments.
But Labour said the focus should be on house building, to correct a lack of supply of affordable homes.
The latest news of Barclays' participation comes as mortgage lenders reported that the number of first-time buyers was already growing quickly from a low base.
The Council of Mortgage Lenders said that the number of loans approved for first-time buyers rose by 33% in August compared with the same month a year earlier.
Related Internet Links
The BBC is not responsible for the content of external sites.