Warning after water management firm's collapse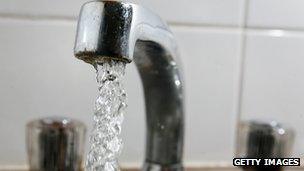 Homes and businesses have been left owing millions of pounds to water firms after signing up with a bill management company that has now ceased trading.
Reading-based Smartsource Water had promised customers it could reduce their water bills by more than 8%.
It also guaranteed them no price rises for four years.
The Consumer Council for Water in England and Wales said the case showed the risks of making payments for services through a third party.
Last month Smartsource was wound up after it stopped paying water companies and customers fell into arrears.
Smartsource Water, the trading name for Smartsource Drainage and Water Reports Ltd, was founded five years ago by two former water company executives, Maureen Murphy and Peter Kaye.
It offered to cut customer bills by 8.3%, as it explained on its website: "We look at how much you are currently paying for water. You will save one month's worth of water charges every year (compared with your current water charges). If you are happy with the information that we send you, we will then start to pay your water bill on your behalf and start to look for ways to save you even more."
Mark signed up with Smartsource Water in August 2011 in the expectation that he would save around £50 to £60 a year on water to his home.
Everything seemed to go smoothly until this summer he discovered his water bill had not been paid by Smartsource Water for six months, as he told BBC Radio 4's Money Box programme: "The first I heard about it was the account being in arrears and in the hands of debt collectors. I've accumulated £360 worth of arrears which I have to pay off almost immediately. At no point did they tell me and at no point was I told by my water company."
As well as residential customers, small businesses were tempted by the savings Smartsource Water was offering.
Marcus, who runs a kennels in Derbyshire, was cold-called by Smartsource Water in May this year.
Like Mark, he was offered the 8.3% reduction in his water costs if he agreed to let the firm pay his bills.
So he signed up, but when he returned from a break a few weeks later, he got a nasty shock: "We went away on holiday and came back to a disconnection notice from Severn Trent Water."
The mystery was how Smartsource Water was supposed to be making the substantial savings it promised to Mark and other customers.
Even people who tried to generate leads for Smartsource Water were in the dark.
"Stephen" - not his real name - is a businessman who agreed to work as an agent at the start of this year: " I just found it too good to be true. I just had a niggling thought at the back of my head that I don't understand how this works."
Stephen only managed to get one client to sign up, a local hotel group.
He says he was owed £11,500 commission for the introduction, but it never came.
Smartsource Water told him it was suffering from cash flow problems.
Money Box also spoke to "Sian" - not her real name - who worked in the firm's Reading office as a sales administrator.
Sian says she regularly took calls from customers who were threatened with being cut off, including a residential care home for elderly people: "They had a guy outside the door threatening to disconnect them right that moment unless they paid immediately."
Money Box understands a range of businesses also signed up, along with several football clubs including Bolton Wanderers.
The club said it was aware of this issue but would not comment.
In the end the Manchester brewery, JW Lees, lost patience after discovering its unpaid water bill amounted to £58,000 and successfully sought a winding up order at the end of September.
Its lawyers estimate that unsecured creditors are owed around £4m.
The Insolvency Service said the firm was now in the hands of the Official Receiver.
The Consumer Council for Water in England and Wales, says it is helping customers in debt to come to an arrangement with their water provider.
But Andrew White from the council said customers should be aware of some of the pitfalls of having their water bills managed by a specialist firm: "If you take on a service where you make payments through a third party, there's a real need to be aware of the risks involved. That if those payments are not passed on to the water company, you could still be held liable for those."
Money Box attempted to contact Smartsource Water and its directors but got no response.
Related Internet Links
The BBC is not responsible for the content of external sites.