Asda acts over online glitch offering free shopping
By Edward Watson
You & Yours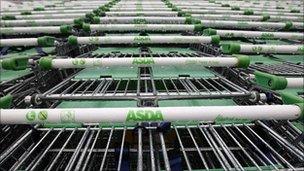 Asda has withdrawn an offer that inadvertently promised a £50 discount.
Hundreds of people took advantage of the online voucher, which gave the discount if you spent as little as a penny over £50.
The supermarket said the problem was the result of a "rogue code", and that it would not honour outstanding orders made with the voucher.
Some shoppers reported using codes more than once to buy electrical goods. Others have been contacted to say their orders have been cancelled.
Nick Devine, 23, from Leeds was sent the instructions by a friend, and tried to take advantage of a deal that seemed to offer practically free shopping.
He said: "I logged on, entered the code a few times because it didn't work at first. You could tell there was maybe a glitch in the system.
"I bought two-and-a-half litres of vodka and three bottles of mixer, checked out and it came to zero.
"I said I'd pick it up from Asda so I didn't have to pay the delivery costs, but I've woken up to a text message this morning to say it's been cancelled."
The supermarket told the BBC: "We've removed the glitch, which has prevented customers from using the rogue voucher and we apologise for any confusion caused."
Asda added that its terms and conditions state that it reserves "the right to withdraw or cancel any of its e-vouchers at any time".
Related Internet Links
The BBC is not responsible for the content of external sites.