Lord Stern says energy and media firms 'mislead'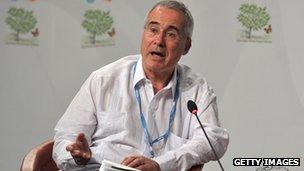 Climate-sceptic newspapers are conspiring with energy firms in a campaign of misinformation on bills, says the former head of the government economic service, Lord Stern.
He says they want to shift blame for rising bills on to green taxes.
It is clear, he says, that the real culprit for bill increases has been the soaring price of gas.
The cost of energy was thrust back into the headlines when the firm SSE announced an 8.2% price rise.
It blamed part of the rise on taxes supporting renewable power.
Lord Stern, who wrote an influential global review of climate change economics, said the UK's dependence on fossil fuels had generated three-quarters of the increase in costs for households.
Less than a fifth of the £70 rise was forced by green taxes, he said, and most of that goes to help poor families insulate their homes.
Lord Stern told BBC News: "There is currently a concerted campaign to mislead the British public about the factors that are driving up consumers' electricity and gas bills."
He warned that if the campaign succeeded in getting cuts in support for renewables, consumers would face even higher bills in the future as the cost of fossil fuels continued to rise.
The left-leaning think-tank IPPR said today that just 6% of SSE's price rise was caused by rising government green taxes.
And the renewables agency RegenSW said that green taxes on energy constituted less than 3% of the average dual-fuel bill.
They complain that by comparison, the UK is spending £2.3bn a year for the nuclear clean-up. The final clean-up bill could top £100bn.
Supporters of renewables also point out that the government is about to announce a long-term price support deal for EDF's planned Hinkley C nuclear station.
The price is reported to be roughly double the current market rate for electricity, locking in the price for 35 years.
Lord Stern said that with fossil fuel prices likely to continue to rise, support for renewables would actually make bills cheaper in the long run.
He also had a warning for people hopeful that shale gas would bring down bills.
"Domestic supplies of shale gas are unlikely to make much difference to fuel bills, because the UK is unlikely to have big enough reserves to reduce European gas prices, which determine wholesale prices. The gas may also take many years to exploit," he said.
Supporters of shale gas argue that exploiting the UK's resources will generate revenue for the government and therefore has the potential to reduce taxes on individuals.
They believe it will be cheaper and more reliable in the medium term to keep the UK largely powered by gas.