Burberry chief Angela Ahrendts to join Apple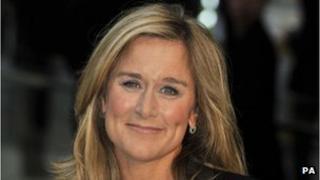 Burberry chief executive Angela Ahrendts will leave the luxury goods firm next year to join technology giant Apple.
At Apple she will become senior vice president for retail and online stores.
Ms Ahrendts has been with Burberry for almost a decade, and has been credited with turning it into a globally recognised firm.
She will be replaced by chief creative officer Christopher Bailey, who has been in the role for six years.
In her new job, Ms Ahrendts is expected to report directly to Apple chief executive Tim Cook.
Apple's decision to hire Ms Ahrendts comes just three months after it recruited Paul Deneve, the former chief executive of French luxury group Yves Saint Laurent, for "special projects".
The moves are rumoured to be related to Apple's development of an "iWatch", in which an understanding of fashion will be as important as the technology and engineering behind the product.
'Moved and humbled'
Ms Ahrendts said it was "an honour" to have worked at Burberry.
"Burberry is in brilliant shape. I am confident that Christopher, as one of this generation's greatest visionaries, will continue to lead Burberry to new heights," Ms Ahrendts added.
Mr Bailey said he was "moved and humbled" to take on the chief executive role. He will also retain his existing chief creative officer role.
"We have a clear strategy to build on, an increasingly powerful brand and an inspiring management team," he added.
Ms Ahrendts and Mr Bailey will work together over the coming months to try to ensure a smooth transition, the firm said.
Burberry chairman Sir John Peace described Ms Ahrendts' departure as "a natural progression".
"I have no doubt that Christopher's vision and leadership, with the excellent management team in place, will keep Burberry on the forefront creatively, digitally and financially," he added.
Burberry results
Ms Ahrendts' departure was announced as Burberry revealed 17% growth in underlying retail sales in the six months to the end of September.
Retail sales from stores open at least a year grew by 13%, helped by double-digit growth in Asia Pacific and the Europe, Middle East, India and Africa division, as well as high single-digit growth in the Americas.
Total revenue rose 14% to £1.03bn.
The British fashion brand is one of the UK's most successful luxury exports.