Spain ends two-year recession with 0.1% growth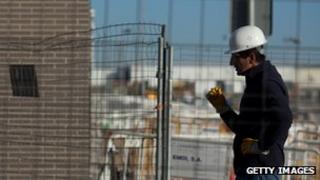 Spain has seen its first quarterly economic growth since 2011, according to data from the country's National Statistics agency INE.
The country's GDP grew 0.1% in the July-to-September period, after contracting for the previous nine quarters.
Its growth confirmed last week's estimates from the Bank of Spain.
Spain was one of the countries worst hit by the global economic crisis, with street riots and soaring unemployment.
The statistics mean Spain is officially out of recession.
The INE said an increasing number of exports supported the growth, with a boost to the tourist industry from holidaymakers avoiding northern Africa and the Middle East.
Ben May, economist at Capital Economics, said the growth was encouraging and cited business surveys that suggested there "may be more to come in the near term".
Mr May said: "However, domestic demand is still contracting and against that backdrop, it's hard to see a strong and sustained recovery."
Spain's economy has been ailing since its property bubble burst in 2008.
Its banks needed government bailouts from other European countries to survive, after they were left with hundreds of billions worth of euros in bad debts.
Since then, the country has endured Europe's highest level of unemployment, at 26%. There have been huge street protests in response to government austerity cuts and thousands of businesses have gone bust.
Spain's government recently predicted the end of its recession was near, saying its reforms and cuts were paying off.