Israel's El Al airline sees silver lining in dark clouds of competition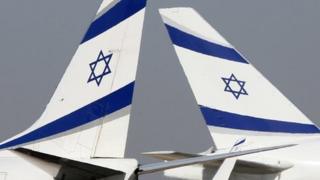 It is a Sunday morning - the start of Israel's working week - and at a busy Ben Gurion airport passengers are checking in at El Al counters for flights across the globe.
Since its foundation in 1948, Israel's flag carrier has dominated the country's aviation industry, for most of that time commanding half the market for passengers.
Almost every Israeli citizen has flown El Al. And almost every Israeli seems to have a view on this national icon.
Some passengers will only fly El Al, because of the lengths to which it goes to ensure against terrorist attacks. Others criticise the over-familiar cabin staff, the inefficiencies, or the ageing aircraft. But the airline remains a source of identity and pride.
El Al owes its dominance to government protection, which has traditionally provided El Al with the lion's share of take-off and landing slots in Israel.
Many passengers simply have little choice except to fly El Al.
But all this is going to change.
Israel has entered the era of Open Skies. The airline is about to face the same sort of competition that forced European flag carriers to restructure and cut costs as aggressive budget carriers such as Easyjet and Ryanair moved in.
For Ishay Don Yehiya, director of air transport at Israel's Civil Aviation Authority (CAA), the future for El Al is clear. "It will have to really revolutionise its operation."
Lower fares
Thanks to an agreement Israel has struck with the European Union, El Al is having to hand back some of its precious slots at Ben Gurion, the country's principal international airport.
These are then sold to the highest bidders among the European airlines. But it means that El Al, in reciprocation, has the freedom to bid for more flight slots in Europe.
The move should increase competition, lower ticket prices, lead to the introduction of new routes, and increase tourism to Israel.
It will mean Israel's airlines, including Arkia and Israir, adapting to a new order. But it is probably El Al that has most to lose - or gain.
The open skies deal does not expose El Al to a big-bang-style relaxation of the market, but rather a gradual opening up of the EU-Israel market over five years.
That is designed to give the airline time to restructure and bring in new investment. Yet, the effects are already being felt.
Some of the initial slots being sold have already been snapped up by Easyjet, and several other low cost carriers are watching as more take-off and landing rights come on to the market.
There are around 150 airlines within the European Union. And while not all will necessarily have an ambition to expand services to Israel, it underlines just how many carriers could be looking to exploit what has hitherto been a relatively closed market.
Israel's CAA, which is overseeing the open skies process, estimates that the breaking of El Al's domination at Ben Gurion could cut the average price of a flight to and from Israel by 20%.
This, in turn, should boost the tourism industry, attracting perhaps half a million extra holiday-makers to the country over the next five years.
Too late?
The worry is, though, can El Al survive all this?
Since the open skies process began in June, El Al has already seen its share of the Israeli aviation market fall. Even when shielded from the competition, El Al has, in most years, run at a loss.
The CAA's Ishay Don Yehiya says: "We have really increased the level of competition, and we have seen El Al's response was not good.
"El Al has failed to do the necessary steps to compete, and to stay competitive. It will have to grow much more efficient, and it will have to do it now, because it's already starting to be too late."
The airline's president, Eliezer Shkedi, says he is well aware that El Al must change. But there will be no retreat from the low cost competition.
Starting next year, El Al will expand its fleet and increase the number of routes.
"The first thing is to cut costs in each and every area," Mr Shkedi tells the BBC. "We are planning to increase the number of aeroplanes in our fleet next summer. We plan to increase the number of our long-haul flights to new places."
However, it is in the short-haul market where El Al faces stiffest competition.
Budget airlines, with their lower costs and flexible labour practices, took huge market share from full-service carriers in Europe and are likely to do the same with El Al.
So, what sort of cutbacks is El Al planning in its short haul operation? Mr Shkedi is not saying exactly, but clearly there are plans.
"I cannot now be specific," he says. "But we intend to do it (cut back operations) in a number of places, in west Europe and east Europe, and here in the Middle East." This process, though, is just the start, he insists.
Resistance
Restructuring will not be easy, however.
Unions went on strike earlier this year in protest at the open skies agreement and opposition is hampering El Al's attempts to bring in new investment.
The airline has so far failed to agree a new labour agreement on pay and jobs, a move that stopped a $75m investment package from the First Israel Mezzanine Investors Fund.
Yet, despite concerns that El Al may struggle in the era of open skies, aviation consultant John Strickland says the potential benefits for the airline should not be underestimated.
"When we see new airlines, particularly low cost carriers, coming into a market that has not had this sort of exposure, you get enormous growth in the market.
"The stimulation caused by the low prices that low cost carriers offer means more people will go abroad to visit friends and relations, and more tourists to visit the country. The market will expand.
"There will be new players generating new markets. And if El Al adapts its own pricing it could even see its own traffic grow."
But Mr Strickland says El Al will have to move quickly.
"They cannot afford to be lethargic. They already have a shackle, in that they can only fly six days a week (not on the Sabbath). That reduces the productivity they get from their assets.
"The ability of the company to react will depend on the strength and quality of its management and their ability to get the unions on side," he said. "If El Al tackles its problems, it could actually grow - but only after taking the pain first."