Marks & Spencer non-food sales fall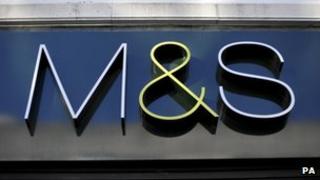 High Street retailer Marks and Spencer has reported a fall in sales of non-food items in the first half of the year.
Like-for-like sales in non-food items were down 1.5% compared with the same period last year. The retailer launched its autumn/winter ranges in September.
Food sales were up 2.5%, while pre-tax profits came in at £280.6m - virtually unchanged from a year ago.
M&S said it remained cautious for the rest of 2013.
Chief executive at M&S Marc Bolland said the company continued to invest in the "long-term transformation" of the business.
He said: "We are pleased with the progress made, given the high level of activity and a number of key projects launching this year.
"This has led to a higher level of additional costs, which while planned for, have impacted short-term results."
The 129-year-old company said although consumer confidence was "improving", it had yet to translate to the High Street.
M&S's new autumn/winter range was led by an advertising campaign featuring some of Britain's most high-profile female celebrities, including Tracey Emin and Dame Helen Mirren.
Reacting to the results, deputy editor at Drapers Magazine, Anna Santi, told the BBC: "Christmas will be absolutely crucial, and if they don't have a good Christmas I think investors will be concerned."
She also said M&S clothes may have become "too expensive", and that Primark does better in balancing quality and price.