Shipyards face up to the inevitable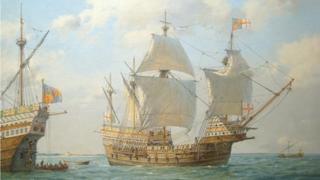 Portsmouth Dockyard has been building ships for the Royal Navy since the 13th Century.
It is one of only four yards in the UK capable of producing warships for the Royal Navy - and all are owned and run by BAE Systems.
But it had been obvious for years that there is no longer enough work for all of BAE's shipyards.
Barrow in Furness is safe because it is the only site that can make submarines. But shipyards in Portsmouth, on the south coast, and Govan and Scotstoun, on the Clyde, have too much capacity between them.
At the moment, the yards are busy working on the Royal Navy's two new aircraft carriers, but that work will end possibly two whole years before work is due to start on the Navy's new Type 26 frigates.
The frigates are still on the design board and no firm orders have been placed. The current plans are to build 13 ships over a lengthy time period. That just won't provide enough work for three shipyards.
Not only that, but there is going to be another defence review in 2015. As one expert said, the idea that we are suddenly going to start building a large number of surface ships for the Royal Navy is a "fantasy".
The Royal Navy is due to receive three new long-range patrol vessels.
But these are relatively cheap and easy to build and would ease pressure on the rest of the Royal Navy's fleet. They would be used to take on anti-piracy and anti-drug running patrols in the Indian Ocean and the Caribbean.
Lost skills
Currently, such functions can involve using some of the Navy's most expensive ships, which are massively over-equipped for the job.
Portsmouth has always been the shipyard most at risk as a result of the gap in orders, not least because the two yards on the Clyde complement each other.
Portsmouth is on its own. At the moment it employs 1,700 people, but 940 are set to go. The remaining staff will now concentrate on ship repairing.
But in the wider economy it has been calculated that 32,000 people work in the supply chain for the Portsmouth shipyard, a supply chain that has an advanced and specialised industrial engineering skill-set that has now lost its biggest local customer and will have to find orders from elsewhere.