Champions League TV deal in focus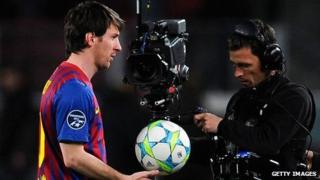 The football and broadcast worlds are still digesting the impact of BT Sport's decision to pay close to £900m for the exclusive broadcast rights to Champions League and Europa League football matches.
The broadcaster has won the rights to show all 350 fixtures each season, for three years from 2015.
The new contract, priced at £299m a season, is worth more than double the current arrangement, and could mean significantly more money for UK clubs in the two European competitions.
But what does it mean for the sporting and business ambitions of BT Sport, as well as Sky and ITV, the current rights holders?
Here Kevin McCullagh, deputy editor of industry publication TV Sports Markets, offers his opinion on where it has left the three broadcast players.
BT SPORT
"What this deal really does is provide another sign that BT really is a different proposition from Sky's previous and most recent competitors in the pay football market - Setanta and ESPN.
"The size of this deal and the fact it is such an exclusive deal for such a major competition like the Champions League makes it far different from anything those others managed.
"And the amount of money BT has put on the table is of a totally different order that what we have seen before. It shows BT has the financial resources, but also the stomach, for a battle with Sky.
"They clearly see televised sport as a very expensive and long-term play. But have they paid too much? That is the huge question.
"BT really needed to spend big money to get a toehold in a market dominated by Sky.
"It is also worthwhile remembering BT launched its sports channels as a means of remaining a major triple-play player - that is, a provider of TV, internet and telephone services.
"Before the launch of the sport channels, Sky was really making inroads and taking away BT broadband customers. The £900m is not only to add more sports TV subscribers, but to protect their broadband base, which is a much bigger business.
"If BT is still the biggest triple player in 10 to 15 years, they will look back and see this period - and Champions League expenditure - as being worthwhile.
"And by offering their sports products to their broadband subscribers, they are also positioning themselves as the choice for the budget-conscious fan.
"They haven't announced their plans yet for the free-to-air games they will show. They don't have a free-to-air channel and I can't see them launching one.
"So their options are: a) to un-encrypt their pay TV channels during these matches, or b) sub-license on to a free-to-air partner such as BBC or ITV.
"The best thing for BT would be to keep everything on their channels. This allows them to put out the strong marketing message of BT being the only place to watch Champions League/Europa League football."
SKY
"It is a massive blow for Sky. The importance of the Champions League should not be underestimated, nor what a major TV sports rights property it is in the UK.
"It is probably the biggest sporting rights auction Sky has lost.
"It is the second biggest subscriber driver after the Premier League, and Sky will feel the impact of this.
"However, Sky has still has a top portfolio, and has got other major sports rights, as well as a broader offering than BT.
"It has a really wide sports offering - including exclusivity to half of the Formula 1 races, England and Wales cricket, La Liga top flight Spanish football, and a major range of golf events.
"This announcement has come as Sky is pouring money into other areas, for example original British drama.
"By offering an increasing breadth of content, Sky is looking to give people other reasons to buy Sky subscriptions, rather than BT's.
"Going back to sport, I don't think that there is anything very obvious that Sky can go out and buy right now to replace the Champions League rights.
"I think they will look to weaken BT Sport when it comes to the next round of Premier League TV rights in England.
"Sky currently has 118 live games a season compared with BT's 38 a season.
"But where BT has done better than Setanta or ESPN is in the number of "first picks" broadcast choices - BT managed to win 18 games, whereas their predecessors got none.
"I think Sky will be looking next time round to reduce BT's number of first picks."
ITV
"This will have hit ITV too, as over the decades they have become the terrestrial television home of Champions League football. They have also been showing the Europa League on ITV4.
"With BT grabbing the Champions League rights, it means that ITV loses its top televised football competition. although they do have live England internationals, which attract strong viewing figures.
"But, having lost the FA Cup to the BBC, ITV now has no top-level live club football.
"The upside is that the CL and EL were expensive and this has freed up a large chunk of budget that they can spend on other content. They will have roughly £50m a year available to spend that is currently going on Champions League football rights.
"They may need to invest in midweek evening content for young men.
"But, again as with Sky, there is not a lot of available football or other sports rights out there to replace the Champions League.
"What has happened to ITV is being seen around the world, where the big global TV sports rights are all migrating to pay-TV.
"It is the most compelling way to bring people on board as pay-subscribers.
"I am talking about seasonal-long events, such as the Premier League or Champions League, where you have a series of games and can build interest and a following over a year (rather than a World Cup or Olympic Games).
"As a result we are seeing a growth in value in top sporting TV rights."