The start-up scene that is changing Norway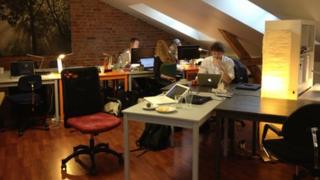 Norway's strict labour laws mean most offices in the capital Oslo are empty after 16:00, but a growing number of young entrepreneurs are bringing a new 24-hour working culture to the city.
App developers and web designers sit at gleaming white desks, in a loft where the exposed brickwork and wooden beams are draped with fairy lights.
Meanwhile, jewellery designers, architects, and even a magician gather along benches in a workshop packed with power tools. Other people mingle in the communal kitchen, swapping business ideas over complimentary coffee.
We are at Mesh, Oslo's first bespoke hub for budding entrepreneurs. At five storeys high, and also boasting a cafe, table tennis room, and even the second-largest nightclub in the city, it has set the bar high.
"Our goal is to make innovators feel at home," says Anders Mjaset, 28, who co-founded the project in February 2012.
"When I launched my first business aged 21, I thought I'd be interacting with other entrepreneurs and investors, but it turned out this kind of network didn't exist in Norway. So along with my partners we decided to make one."
Evenings and weekends
Mr Mjaset and his team wanted access to their new community to be affordable for members living in a city which is regularly ranked among the most expensive in the world, due to a strong economy fuelled by the country's oil industry.
So in a city where the average price of a loaf of bread is 39 Norwegian krone ($6.31; £3.95), at Mesh you can hire a desk and get access to all its facilities from just 1,190 krone a month ($180; £113).
The space is open round-the-clock so that users can connect with businesses in different time zones, or develop start-ups out-of-hours alongside their day jobs.
It is currently shared by more than 200 regulars. Most are in their 20s, although the youngest is 16 and the oldest is in his 60s.
"The greatest benefit is that I can work as much as I want," says Christian Ariton, 26, an apprentice shoemaker from Romania, who moved to Norway as a student.
Like 75% of members who use the centre's workshop, he only visits during evenings or at weekends. "Night or day, you are never alone," he adds.
'Golden handcuffs'
Mesh's model has already inspired a handful of similar working spaces across the city, from 567 Oslo, which focuses on creative industries, to Startuplab and Grundergarasjen which are both geared at technology entrepreneurs.
But Oslo's fledgling start-up scene presents a stark contrast to the country's traditional 08:00 to 16:00 working culture.
Norwegians prioritise family and leisure activities, and government legislation actively discourages irregular schedules and unpaid overtime. People here work an average of 1,426 hours a year, one of the lowest rates in the developed world. Just 3% of Norwegians clock up more than 50 hours a week.
Frode Jensen, co-founder of another networking community, Start-up Norway, says: "Average wages are good, and most people can afford what they want - be that a cabin in the mountains or a nice car - and they can get all that from working 08:00 to 16:00," he says.
"Whereas in other countries people might set up businesses in order to earn more, or because there aren't enough formal jobs around, entrepreneurs in Norway need to have a real drive to do something different."
But despite the buzz around Oslo's new networks, there is concern from some quarters that a boom in start-ups could begin to produce the kind of health and social problems that Norway has fought hard to avoid through its focus on work-life balance.
"Working outside regular hours can have consequences including cardiovascular diseases and digestion issues, and it can affect your mental health," says Asbjorn Grimsmo, a senior researcher at Norway's independently funded Work Research Institute.
"There is a danger that as an entrepreneur you will eat your sausage at both ends, and only realise the effects in a few years when you may be unhealthy and feel lonely because you haven't had the time for a social life."
Mr Grimsmo rejects suggestions that Norway might need to embrace the trend towards 24-hour working as it seeks to develop new opportunities outside its traditional industries.
"I don't think we are spoilt in Norway. I think other countries should move towards our working hours," he insists.
Tip of an iceberg
But back at Mesh, entrepreneurs are convinced they are part of an irreversible shift in the way Norway does business.
New graduate Mette Schjelderup has just joined her young husband's business Douchebags, a sports equipment luggage company that was launched last year, and already sells its products in 300 stores across 20 countries.
"I feel like Mesh is the tip of an iceberg. We will see a lot more happening much faster in the start-up scene from now on. We are a modest nation, but now it's becoming OK to network more and to tell people about your crazy ideas without being judged."
Civil servant and part-time entrepreneur Andreas Dietzel runs a business organising traditional Viking-style obstacle races around the country.
Recently back from working in the US, he's much more cautious about Oslo's start-up hype, and believes it still has a long way to go to catch up with similar innovation hubs such as Boston.
"Here I'd say entrepreneurs are still very much counter-cultural, with the way they prioritise work first," he argues. "Whereas in other places they maybe get less attention because people work a lot no matter what they do."
Mr Dietzel is sceptical about whether the current darlings of the new co-working scene will be able to spread their passion and work ethic once they start moving into their own office spaces and hiring more staff.
"Once you get to 50 or 100 employees, I think it's going to be difficult," he adds.
But despite the challenges, he remains focused on growing his own business.
"My Norwegian family can see that I really enjoy doing what I'm doing, but when I was on summer holiday with them and basically worked every day - they definitely thought I was a bit crazy!"