Freelancer.com shares soar in Australian market debut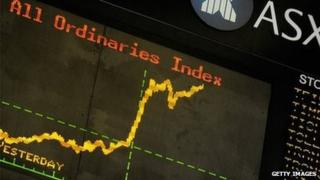 Shares in the Australian online jobs site, Freelancer.com, have soared by as much as 400% in the company's stock market debut.
Its shares launched on the Australian Stock Exchange at A$2.50 ($2.33; £1.45) each, up from the A$0.50 they were offered at.
The site matches freelancers with small businesses around the world and claims more than nine million users.
It raised about A$15m by offering some 30 million shares.
Freelancer.com is the world's largest freelancing and outsourcing site by number of users and specialises in copywriting and graphic design jobs, among others.
Freelancer frenzy
Market watchers say high demand for the firm's shares was caused in part by its previous rejection of a A$427m takeover offer from a Japanese recruitment firm.
Nick Motteram, managing director of On-Market BookBuilds, an Australian market listings specialist, said there had been a lot of positive talk about the upcoming initial public offering (IPO).
But he said a 400% surge on a trade debut might indicate the company had been mispriced.
"That being said, given the deal was only sold to a select few, including staff, the intention may have been to look after these investors and generate strong market interest," Mr Motteram said.
The shares traded lower during the day as shareholders took profits and ended the day at A$1.60.
Mr Motteram said recent Australian IPOs that had also seen strong post-listing performance included Virtus Health and OzForex, which spiked by as much as 50% after listing.
Revived IPO market
Freelancer.com's successful share trade debut comes a week after the social media giant Twitter saw the price of its shares surge by about 70% in its debut on the New York Stock Exchange.
It also comes at a busy time for the Australian market.
Mr Motteram said the Australian revival was largely due to "pent-up investor demand and the lack of good IPO opportunities over the last 12 to 24 months".
"With the federal election out of the way, and no recent adverse global events, issuers who have waited for the IPO window to open are now rushing to market before year-end," he said.
"Right now, both retail and institutional investors are seeing this as a great opportunity to put their cash to work."