Lloyds sells Scottish Widows Investment in £660m deal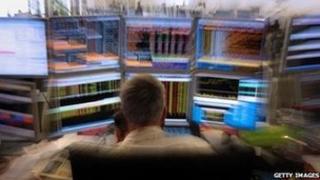 Lloyds Banking Group has sold Scottish Widows Investment Partnership (SWIP) to fund manager Aberdeen Asset Management in a £660m deal.
The sale does not include Scottish Widows, the group's life, pensions and investment business, which Lloyds said was "core" to the group.
Aberdeen is paying mostly shares for the deal, handing Lloyds a 9.9% stake, worth around £560m.
The deal boosted Aberdeen's shares, which closed up nearly 15%.
Aberdeen will also manage assets on behalf of Lloyds as part of the deal.
It will pay Lloyds up to £100m in five years time depending on the performance of these assets.
Aberdeen will also take over Scottish Widows private equity and infrastructure fund management businesses.
Strength
"The sale and strategic relationship are expected to result in a stronger asset management partner for the group and its customers, combining Aberdeen and SWIP's strengths across fixed income, real estate, active and quantitative equities, investment solutions and alternatives," Lloyds said in a statement.
Aberdeen will add £136bn in assets to its books in the deal, making it the biggest listed fund manager in Europe with assets under management of around £340bn.
Aberdeen Asset Management chief executive Martin Gilbert said the transaction was "significant".
"It strengthens our investment capabilities and adds new distribution deals," he added.
Lloyds, which is 33% owned by the UK government, is selling off non-core assets to strengthen its balance sheet and focus on lending to British households and businesses.
'Supportive'
The bank is also looking to boost its capital, in order to plug an £8.6bn shortfall identified by Britain's financial regulator in June.
Lloyds said the deal will increase the level of assets held in reserve as a buffer against potential financial troubles (known as the tier one capital ratio) by 11 basis points.
The bank had a core tier one capital ratio of 9.9% at the end of the third quarter.
Lloyds said it "intends to be a supportive shareholder" in Aberdeen and has agreed to keep its initial shareholding for at least one year.