World sport 'must tackle big business of match fixing'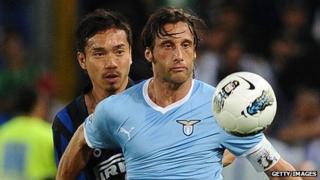 The marriage of sport and gambling, once a commercial match seemingly made in heaven, is facing some tough questions as corruption scandals continue to rock officials, players and fans.
Cricket, snooker and football are among the sports that have been seen to be susceptible to manipulation and match fixing.
Indeed, in the past few weeks new stories have surfaced about football match-fixing scandals in Italy, Austria and South Africa.
There is an urgent need to find ways of staying ahead of increasingly tech-savvy global criminals.
"International sport is in serious trouble with match fixing, which is a facilitating crime for a bigger crime, namely betting fraud," says Chris Eaton, director of sport integrity at the International Centre for Sport Security (ICSS).
It is a Qatar-based organisation that aims to be "a global hub of security, safety and integrity expertise" for sport.
'Greedy people'
"Match fixing is big business, and financially lucrative. It has become the new game for organised crime internationally," says Mr Eaton, former head of security for Fifa, the world football governing body.
In a lifelong career in law enforcement he has also been a federal agent in his native Australia, and worked for Interpol, the international crime-busting organisation.
The 61-year-old says that while match fixing for sporting reasons such as promotion and relegation still occurs, this has been overtaken by "greedy people" looking to make millions from gambling coups.
He points out that whereas gambling is well regulated in markets such as Europe, in other places - such as China, South East Asia and India - there are major problems with the large, lucrative but unregulated gambling industries.
As well as being unpoliced, the unregulated market also takes bets that regulated bookmakers do not - either because of the amounts being gambled, or because the bet seems crooked.
Mr Eaton says that in India up to 2bn euros (£1.67bn; $2.7bn) can be gambled on major Test match cricket games, such as against Parkistan, and some 1bn euros can be wagered on major Indian Premier League cricket games - all totally illegally.
And he says the black (illegal) and grey (unregulated) gambling markets in South East Asia are among the biggest and most sophisticated in the world, where betting is not just a cash business but one that uses websites and, increasingly, mobile and social platforms.
At the same time, the issue is becoming increasingly global.
Mr Eaton says policing operations into match fixing usually focus on gaining a prosecution in the country where an offence takes place, and do not address the worldwide nature of most sports betting fraud, which is usually planned and financed in a totally different part of the globe.
A local approach is not much use, he says, if match fixing is organised in Singapore, affects a game played in Hungary and the betting fraud is carried out in Australia.
"Strictly national policies, or investigations carried out in one linguistic or cultural sphere, can never catch up with international crime," he told delegates at a World Sports Law Report seminar into sport and gambling.
"It takes two to four years to follow these crimes, and by then those involved have got their money and are gone."
Sponsor pullout
Meanwhile, the impact of match fixing goes beyond hitting a sport's reputation and the income of legitimate bookmakers.
South Africa has been in the spotlight for the past three years over football match-fixing allegations surrounding a series of friendly games they played before hosting the 2010 World Cup.
These include the 5-0 win over Guatemala and a 2-1 victory over Colombia in May 2010, where three penalties were awarded in each match. Last week Fifa's ethics committee prosecutor opened an investigation into the allegations.
As a result of the claims South Africa's kitmaker sponsor, the German company Puma, has ended its financial relationship with the country's football association, whose new president Danny Jordaan says revenues have dropped from $80m in 2010 to $20m this year as the scandal has rumbled on.
"Everyone is looking for a silver bullet, the one thing that will solve the problem, but there is no one thing," says Mr Eaton.
"At present there are pockets of good co-operation, but there is still a disconnect between gambling and sport."
To address these issues, the International Olympic Committee (IOC) and the Council of Europe are launching initiatives to help improve the flow of information and intelligence about sport and gambling to people such as sports governing bodies, event organisers, national governments, law enforcement agencies and legitimate gambling companies.
And at present a gambling bill is going through the UK Parliament, which seeks to ensure that gambling operators will have to be licensed in Great Britain if they want to take bets from British-based gamblers. (This proposed aspect of the legislation would not apply in Northern Ireland.)
Data exchange
But Mr Eaton believes that action in one country alone cannot keep up with international crime.
He suggests there should be "a self-regulatory co-operative approach from the totality of the sports betting industry, at a global level".
And he says this should be underpinned by a data clearing house for the exchange of information between sports, betting and policing organisations.
He says this information exchange could follow the example of the global Financial Action Task Force (FATF), which has strong research teams to advise governments on money-laundering prevention, and on strengthening banking systems.
Following this approach - rather than the proscriptive model followed by Wada, the global anti-doping body - would bring about support and approval from all relevant stakeholders, he believes.
"Match fixing and gambling fraud is big, global and organised. We can only tackle it by also being big, global and organised," he says.