Mobile operator 3 extends roaming offer to US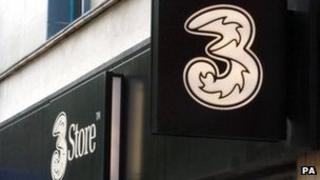 Customers of mobile operator 3 are now able to use their UK allowance of data, texts and calls in the US and 10 other countries.
The offer means that UK users can avoid high roaming charges that often occur when travelling overseas.
The extension to the scheme, which was announced on Wednesday, means the US, Indonesia, Sri Lanka and Macau have all been added to the list.
The company is also planning to provide 4G mobile services for customers.
Frustration
Roaming charges are a significant gripe among mobile users, most of whom are forced to turn off the function - reducing the effectiveness of a smartphone - when on their travels.
The European Commission is proposing to scrap mobile phone roaming charges across Europe.
Now, 3 has negotiated a deal with two US networks that reduces the charges they levy. It also ensures any 3 customer travelling to the US will be forced onto those networks, allowing these customer to use their UK allowance, and avoiding any unintended bill shocks.
"We want customers to get the most out of their devices at home or abroad," said Dave Dyson, chief executive of 3.
"Adding the USA to the mix is great news for our customers and shows our commitment to giving them the best experience in what is a popular destination."
He added that he was "comfortable" with the fact that 3 was the last of the major operators to introduce 4G mobile services.
He said the company would not charge a premium for this service. All customers with a 4G device would be connected automatically by the end of March, he added.
On Tuesday, 3 was among four operators to sign an agreement with the UK government to protect customers from "sky-high bills" if their phones are stolen.
EE, Virgin Media and Vodafone joined 3 in agreeing to a new cap on the maximum customers would be expected to pay.
The firms will also tell people of mid-contract price rises, and phone users will then have the option of breaking off the contract without penalty.