Qantas shares tumble on shock profit warning and job cuts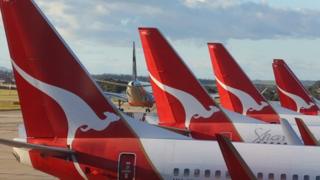 Shares in Qantas sank more than 15% after the Australian airline issued a surprise profit warning and announced 1,000 job cuts.
The airline said trading conditions had seen a "marked deterioration" amid tougher competition and slowing demand.
Qantas said in a statement it expects to makes losses of up to A$300m ($271m; £165m) for July-to-December.
Chief executive Alan Joyce said the airline was facing "immense challenges".
He blamed record fuel costs, a strong Australian dollar and fierce competition from subsidised rivals.
The situation demanded urgent action and the airline would "do whatever we need to do to secure the Qantas Group's future", he said.
Qantas also said the outlook for its January-to-June period in 2014 remained "volatile".
In August, Qantas reported a net profit of A$6m in the year ending 30 June, bouncing back from a loss of A$244m the year before.
The firm's earnings during that period were lifted in part by the A$125m settlement it received from Boeing after it cancelled 787 orders.
The Australian aviation market is one of the toughest of anywhere in the world, the carrier said.
Last month, Qantas backed a suggestion by Australian Treasurer Joe Hockey that rules restricting foreign investment in the carrier should be changed.
Current rules limit total foreign holding of Qantas to 49%, with foreign airlines allowed to own just 35%.
Qantas argues that these rules have hurt its growth, not least because its major rival Virgin has benefited from increased foreign investment.