Autumn Statement: Wait longer for your state pension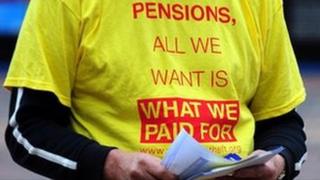 So the state pension age (SPA) is going to be raised even more quickly than previously planned.
In his Autumn Statement, the Chancellor, George Osborne, announced that it would now go up to 68 sometime in the mid-2030s, rather than between 2044 and 2046.
That is about 10 years earlier than originally planned.
The government won't say how many more people will now have to wait another year to receive their state pension.
That is because the precise date for the implementation of the policy will be decided in a few years' time by a government commission.
However, one pension expert, Tom McPhail of the investment firm Hargreaves Lansdown, has estimated that this change will probably affect 8-10 million people, as roughly 800,000 people a year reach the current SPA and their numbers will rise as the population grows.
Who needs to care?
A Treasury spokesman said the bulk of people who will be affected would currently be in their mid to late 40s.
One thing is certain, though: the revised policy will save an awful lot of money.
"The figures previously published show that delaying the state pension age by one year saves the government £13bn," said Malcolm McLean, a consultant at the actuaries Barnett Waddingham.
"Further rises in the state pension age and linking it to life expectancy are not unexpected given that people continue to live longer and therefore the cost of providing a state pension will inevitably increase."
Indeed, the Autumn Statement says the latest rise in the state pension age, along with the other scheduled increases, might eventually save taxpayers about £500bn over the next 50 years.
When will it affect you? You can check using the government's own State Pension Calculator.
Check your dates
The policy of raising the state pension age was initiated by the last Labour government, to reflect rising life expectancy and help curtail the inevitably rising cost of paying state pensions.
It was initially going to be a long drawn-out process, spread over several decades, but the coalition has accelerated it quite dramatically.
This is the current state of play.
The SPA is currently 65 for men, with the SPA for women in the process of being raised to that age as well.
Once that equalisation process finishes in 2018, the SPA is then going to be raised swiftly by another year, to 66, between 2018 and 2020.
Then the SPA will rise yet again to 67, between 2026 and 2028.
That is only 15 years away, and the newly-announced higher SPA of 68 will now be introduced less than a decade after that.
One third
Back in January, the coalition government's pension minister, Steve Webb, announced that future rises in the SPA age would be decided only after a formal government review every five years, which would focus on the implications of the expected continued rise in life expectancy.
The idea was that the state pension age should be set to allow retirees to spend a set proportion of their life in receipt of a state pension.
That review has not yet started and, in fact, is not due to begin until after the next government takes power following the 2015 general election.
But the chancellor has now firmed up the government's policy on how long the public can expect to receive a state pension.
"We think a fair principle is that, as now, people should expect to spend up to a third of their adult life in retirement," George Osborne told MPs.
"Based on latest life expectancy figures, applying that principle would mean an increase in the state pension age to 68 in the mid-2030s and to 69 in the late 2040s."
More to come
The government has announced it wants to tempt people to boost their entitlement to the state pension.
For a limited time, from October 2015, current pensioners, and those who reach SPA before the introduction of the new single-tier pension, will be able to top up their entitlement by buying a new class of NI contributions.
It is worth remembering that all this is going to go hand-in-hand with other huge revamps of the country's pension system.
The higher but flat-rate state pension system is due to be introduced - for new state pensioners - in 2016.
And the system of auto-enrolment has started to drag millions of low and middle-paid workers either into their employer's current pension scheme or into an alternative, such as the National Employment Savings Trust (Nest).
How long will it be before the SPA is moved even higher, to 70?
Ed Wilson, of the accountants PwC, said: "The Chancellor announced that someone in their 40s won't get their state pension until they are aged 68; the linkage to life expectancy is likely to mean someone starting work now will have to wait to age 72, and a child born today is unlikely to receive their state pension until they reach 77. "