Which businesses are driving the UK jobs recovery?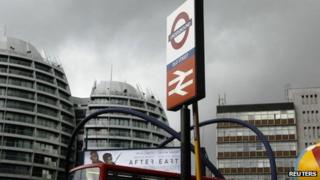 Which businesses are driving the UK jobs recovery?
It appears that technology companies are among them. The total number of jobs in the tech sector is up by about one-fifth since the recession. They have provided 30% of jobs growth in London as the number of companies has doubled since 2009, according to a study by the City of London. That's when the UK capital launched Tech City, or what's colloquially known as Silicon Roundabout.
I paid a visit to London's technology hub to find out whether they are the unsung heroes of the recovery and what it takes to be an entrepreneur. Many of us think about it, but few of us take the plunge.
What does it take to start a company?
First, you need an idea. But, how does it go from an idea to a business? I went to see the incubators and accelerators in Tech City. Shared office space, mentors, and even a bootcamp help entrepreneurs make money from their ideas.
But, that's not all. You also need money. That's where venture capitalists come in. Angel investors offer cash for a stake in your company. How to attract an investor and then decide how much to sell and for what amount are key.
Many start-ups fail, but small businesses account for 99.9% of all private businesses in Britain and generate nearly 60% of all jobs. That's 4.9 million businesses that employ 24.3 million people, according to the Department for Business, Innovation, and Skills.
How to support entrepreneurship is therefore rather important. According to a McKinsey study, there are five key factors crucial to an eco-system for start-ups: it's not just money, but also having the right infrastructure, talent, networks, and reputation.
Right now, bucking the trend of low overall investment in the UK, London accounts for 20% of all tech investment in Europe. That may be something to be learned from not just London but also the tech clusters in the south east of the country for the overall recovery.
For more on Talking Business with Linda Yueh, see details of when to watch.