Ethiopia aims to create new generation of entrepreneurs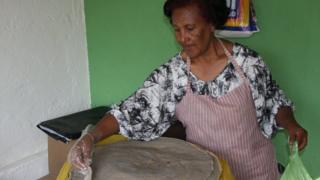 Damenech Zewudie decided it was time to strike out on her own after 33 years working in secretarial and administrative roles for various employers in Addis Ababa.
Now she is the proud owner of a two-month-old business selling injera, the large, thin pancake-like staple which is the base of almost every Ethiopian meal.
"I never used to think about owning a business," Ms Damenech says. "Then I saw how no-one was selling injera where I live - so I took a chance."
Ms Damenech, who is in her 50s, achieved her late start in entrepreneurship after taking part in a state-run training and support scheme called the Entrepreneurship Development Programme (EDP).
Launched in 2013 and co-funded by the United Nations, it is hoped that the $26m (£16m) initiative will help establish a new generation of entrepreneurs who will create jobs and boost economic growth.
The programme is provided for free, and will eventually be available throughout the whole country.
Although it doesn't offer any financial support, so far it has provided training and advice to 1,000 people in four of Ethiopia's 11 regions.
Its very ambitious goal is to have enabled 200,000 Ethiopians - particularly young adults and women - to acquire or improve entrepreneurial skills and knowledge by the end of 2015.
"We are working towards unleashing a transformational change through tapping into the creativity and ambition of existing and aspiring Ethiopian entrepreneurs," says Etalem Engeda who leads the government agency looking after the EDP scheme.
Following the initial workshops, advisers visit the participants to conduct business health checks throughout the year. And at any point the entrepreneurs can reach out for advice and assistance.
"If someone comes round and shows they are taking your business seriously it is very encouraging," says Girum Tariku, who attended a workshop before opening a printing and consultancy business in November.
Intense start
In May 2013 Ms Damenech attended a six-day workshop which is the cornerstone of the programme.
She practised writing a business plan, identifying potential products to sell, calculating risks, assessing markets, negotiating, and more.
By the programme's end she felt exhausted after long days, and little sleep while preparing at home for the next day's activities.
"But it was worth it," Ms Damenech says, adding how most importantly the workshop motivated her to find an idea for a new business.
Last summer she raised 100,000 Ethiopian birr ($5,230; £3,225) by pooling her savings, with money borrowed from relatives, to build and equip a building where she could make and sell injera.
Her cleaning maid was about to leave for the Middle East in search of work until Ms Damenech suggested she join the nascent business. The former maid and another two employees now help Ms Damenech to make and deliver 500 injera pancakes each day.
Entrepreneurial tradition
Ethiopia has a long history of entrepreneurship that began when the Aksumite Kingdom was a trading hub more than 2,000 years ago.
But despite recent efforts to reinvigorate that tradition, today's local entrepreneurs face myriad challenges.
Mr Girum says obtaining sufficient finance is difficult for entrepreneurs who need to raise more than 100,000 birr.
Also it needs to be much easier for an entrepreneur to register a company, as presently they need to visit six different offices.
Meanwhile, landline internet provision is grindingly slow and unreliable.
Yet at the same time, there are a number of positives for potential technology start-ups, such as the big rise in the number of mobile phone users in Ethiopia. Ethiopia currently has 22 million mobile phone subscribers, a figure expected to increase to 64 million by 2015.
And in addition to the assistance offered by EDP there are private support providers, such as IceAddis, a technology hub and co-working space in the capital.
Outside help or interference?
But what of the foreign entrepreneurs wishing to set up companies in Africa's second most populous country?
It can appear that the Ethiopian government's policy to encourage entrepreneurial vigour typically only extends as far as domestic talent.
The government's minimum capital requirement of $200,000 deposited in an Ethiopian bank account by a foreign business can be a disincentive, says an embassy trade official at the British Embassy in Addis Ababa.
Another frustration for potential overseas investors is that 25 potentially promising sectors - including telecoms, banking, media and retail - remain closed to foreign investment.
Yet Mr Girum is pleased at the government blocks, saying local businesses would have struggled otherwise.
That sentiment is echoed by Samuel Bwalya, UNDP's country director in Ethiopia, who also notes how foreign businesses - particularly those in the retail sector - simply compete with locals.
It is unlikely Ms Damenech will encounter many non-Ethiopian entrepreneurs trying to hustle in on the injera trade any time soon.
So her focus is on growing the business. She hopes to hire more staff and increase production, perhaps reaching 5,000 injera a day in 2014. All the money she makes is ploughed back into her business to enable this.
"I do not have five birr in my pocket," Ms Damenech says.
But judging by the enthused expression on her face, that isn't a problem.