Foxconn exceeds worker overtime limit despite changes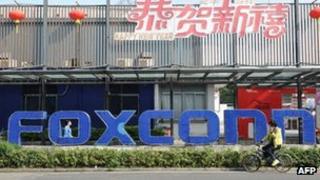 A labour watchdog has said that working conditions at factories of Apple supplier Foxconn have improved but excessive overtime remains an issue.
Fair Labor Association (FLA) said some workers at Foxconn factories in China exceeded the country's overtime limits.
Foxconn has been trying to improve conditions at its units after worker suicides in 2010 raised concerns over its labour practices.
The report said that Foxconn had met most of its improvement goals.
"We are proud of the progress we have made together with the FLA and Foxconn," Apple said in a statement.
Apple added that it was working with Foxconn to lower overtime at its factories.
"We will continue to provide transparency by reporting working-hours compliance each month on our website and we are committed to reducing overtime even further," it said.
Pegatron death
In a separate development, Apple said the death of a worker at a factory of another supplier, Pegatron, was not linked to working conditions.
Apple had sent a medical team to investigate the conditions at Pegatron factories in China.
"Last month, we sent independent medical experts from the US and China to conduct an investigation of the (Pegatron) factory," Apple was quoted as saying by the Reuters news agency.
"While they have found no evidence of any link to working conditions there, we realize that is of little comfort to the families who have lost their loved ones.
"Apple has a long-standing commitment to providing a safe and healthy workplace for every worker in our supply chain, and we have a team working with Pegatron at their facility to ensure that conditions meet our high standards," it added.
The 15-year old worker had died in Shanghai of pneumonia.
Charles Lin, spokesman for Pegatron, was quoted by Reuters as saying the employee had used his 21-year-old cousin's identification to apply for the job.
"Pegatron has strict measures in place to verify workers' ages before and after they are hired, and we work with health and safety experts to provide a safe working environment for each and every worker," the firm said in a statement.