Airline profits to hit record in 2014, IATA predicts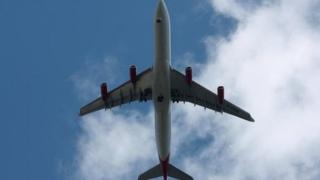 Profits for the global airline industry will reach a record $19.7bn (£12bn) in 2014, the International Air Transport Association (IATA) has said.
The prediction is an upgrade on IATA's previous forecast of profits of $16.4bn.
The Geneva-based trade body said cost cutting, cheaper fuel and rising demand for travel were behind its upgrade.
IATA also upgraded its profit estimate for this year to $12.9bn from an earlier estimate of $11.7bn.
However, IATA said that while total profits were rising, profit margins were being squeezed.
It said next year's estimated profit of $19.7bn would come from predicted revenues of $743bn, whereas the previous record profit figure of $19.2bn - recorded in 2010 - came from revenues of $579bn.
IATA chief executive Tony Tyler said: "It is a tough environment in which to run an airline. Competition is intense and yields are deteriorating.
"Cargo volumes haven't grown since 2010 and cargo revenues are back at 2007 levels. The passenger business is expanding more robustly."
Mr Tyler added that airlines would "only make" a net profit of about $5.94 per passenger in 2014.
IATA represents 240 airlines which cover 84% of total air traffic.