House price growth driven by London, says ONS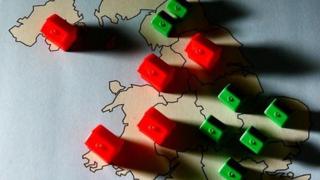 House prices in London rose twice as fast as the UK average in the year to the end of October, official figures show.
Average property prices in London increased by 12% compared with 5.5% for the whole of the UK, the Office for National Statistics (ONS) said.
Excluding London and the South East, UK house prices rose 3.1% over the year.
The ONS said that prices in London, the South East and the East of England were higher than pre-crisis peaks.
Overall, annual prices rose by 5.7% in England, 2% in Wales, 3.3% in Scotland and 4.8% in Northern Ireland, the ONS said.
"While London is a micro market of its own, other parts of the country are seeing far less activity and demand, which is keeping a lid on prices, although house price growth is beginning to increase elsewhere," said Mark Harris, chief executive of mortgage broker SPF Private Clients.
The ONS figures, based on mortgage completions, show that UK house price growth accelerated from a 3.8% increase in the 12 months to September.
All regions except for Wales and Yorkshire and Humber saw annual house price inflation rise in October.
The statistics were published on the same day as ONS figures outlined a deceleration in the rising cost of living generally.
The UK's inflation rate, as measured by the consumer prices index, fell to a four-year low of 2.1% in November, down from 2.2% the month before.