Fake vodka 'can kill you' warning to Christmas shoppers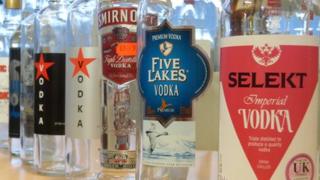 Christmas shoppers trying to save money are being warned to look out for counterfeit alcohol, which can seriously damage health.
Trading standards say it may contain chemicals such as chloroform or industrial alcohol, which can affect eyesight, or in extreme cases, kill.
Seizures of counterfeit vodka in some areas doubled over the last year.
Typically it is sold in corner shops where unscrupulous owners sell it from underneath the counter.
It has also been found on sale in nightclubs.
"I was silly enough to buy some stuff from under the counter, which was clearly not a proper manufactured product," admits Alex Kohnert, a student at Sheffield University.
"I have friends who've suffered from temporary blindness, in one case, but also quite bad stomach pains," he told the BBC.
13,000 litres
Trading Standards staff in Sheffield have been particularly aggressive in trying to tackle the problem.
Since April this year they have found 2,300 bottles of illicit alcohol, mostly vodka. That is double the amount they found last year, which in turn was double what they found in 2011.
Usually it contains alcohols used in cleaning fluids or antifreeze. As a result, such bottles can contain up to 57% alcohol.
"It's not tested. There's no quality control," says Ian Ashmore of Trading Standards.
"These are often criminals that are manufacturing this. They're not concerned about the consumer's health. So it can contain virtually anything," he says.
In once recent case, a shopkeeper in the Richmond area of Sheffield was fined £582, including costs, for keeping 674 bottles of counterfeit vodka under the counter.
The council called the fine derisory.
Nerve damage
The problem is now becoming apparent elsewhere across the country too.
In August, a nightclub in Leeds was fined for stocking vodka containing chloroform, an anaesthetic which can make you feel dizzy, and even cause a drinker to lose consciousness.
In September, HMRC seized 13,000 litres of counterfeit vodka in Scotland, one of the largest such seizures ever.
It was being transported from Belfast and the lorry was intercepted as it left the ferry at Cairnryan.
In December 2013, the owner of a nightclub in Chelmsford was fined after selling fake Smirnoff which he had bought from a van just outside the club.
Doctors warn that any fake alcohol which contains methanol can be particularly dangerous.
Dr Sarah Jarvis, who advises the organisation Drinkaware, says it can cause nerve damage, giving the victim symptoms of Parkinson's disease.
"You can lose your eyesight; you can lose your ability to walk like a normal person; you can lose your life," she told the BBC.
How to spot it
Spotting a fake is not always easy. Most illegal manufacturers try and imitate the UK duty paid stamp, although often it is the wrong size.
One bottle of vodka we saw claimed to come from an area called "Russia-Berlin", which ought to ring alarm bells.
Others had spelling mistakes, wonky labels, and even sediment in the bottle.
But some bottles looked exactly like their genuine counterparts, such as Smirnoff or Selekt. Some had an extremely pungent aroma.
Price is another good indicator. The duty and VAT alone on a legitimate 70cl bottle of vodka total £8.89.
"So if you see a bottle on sale for any less than £9.50, I would be inspecting it," said Ken Webb, an enforcement officer with Trading Standards.
Becca Barnes, a welfare officer at Sheffield University, is particularly concerned about students who tank themselves up early in the evening.
"We've had students who've started drinking before a night out," she says.
"Our advice is to look carefully at the prices as you shop."
Drinkware advises shoppers to think of four 'Ps':
Place: Buy in a reputable location.
Price: If it is too cheap, be careful.
Packaging: Check if the labels are correct, or have been tampered with.
Product: If it smells or looks bad, do not drink it.