Npower pays £3.5m Ofgem penalty to 'vulnerable' customers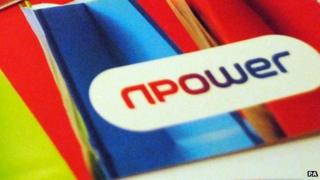 Npower, one of the "big six" energy companies, has agreed to pay a £3.5m penalty for breaching sales rules, said regulator Ofgem.
The money will go towards helping "vulnerable consumers", Ofgem said.
It imposed the penalty after finding that Npower had breached rules governing how energy deals can be sold on the doorstep and over the phone.
Npower "has remedied all the issues raised", Ofgem said, and will direct the money towards poorer customers.
Weaknesses in Npower's sales processes meant customers could not compare offers from rival suppliers fairly, Ofgem found.
The breaches of these "tougher 2009 marketing rules ceased by September 2012".
"Ofgem will continue to hold companies to account to ensure rules to protect energy consumers are met and that the market works for consumers in a simpler, clearer and fairer way," said Sarah Harrison, Ofgem's senior partner in charge of enforcement.
Accepting the ruling, Npower chief executive Paul Massara said: "We've worked very closely with Ofgem as they've investigated these previous issues.
"It's good to draw a line under this, so we can focus on our goal of becoming number one for customer experience by the end of 2015."
Npower said it would make a payment of at least £25 to each of its "warm home discount" customers in the form of an account credit or a pre-payment meter top-up.
It was also fined £1.8m for mis-selling by the regulator in 2008.
'Poorly treated'
The penalty was welcomed by the official customer watchdog, Consumer Futures.
"Mis-selling is the original sin of energy competition. Npower had misled customers by phone and on the door step from 2010. Many people who would have been looking for the best deal found themselves poorly treated," said Adam Scorer, director of Consumer Futures.
"It is unfortunate that it has taken three years to bring this investigation to a close."
Virtually all doorstep selling of energy ended in 2011, but a number of providers have paid penalties for previous errors.
Scottish Power agreed to pay a penalty of £8.5m in October,
In April, Ofgem said that SSE was guilty of management failures that led to "prolonged and extensive" mis-selling and handed down a record £10.5m penalty.
In March 2012, EDF Energy agreed to pay £4.5m to vulnerable customers following breaches to marketing rules.
An investigation into E.On by Ofgem is continuing.