SSE confirms reductions in bills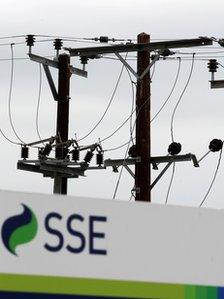 Energy supplier SSE has confirmed it is to cut its prices from 24 March, following changes to the green levies on bills.
It said it would reduce prices by an average of 3.5% for those on dual fuel agreements.
The announcement will only partially offset the original rise of 8.2%, which came into effect in November 2013.
SSE said that those on fixed tariffs would also see the same reduction as those on standard, or variable rates.
Three other suppliers, E.On, EDF and Scottish Power, have said their price reductions will only apply to customers on standard rates.
"Unlike some of our competitors, we think it is totally unacceptable to penalise customers on fixed and capped tariffs," said Will Morris, SSE's group managing director for retail.
Earlier this week, Scottish Power said it would cut prices by 3.3% on 31st January, but customers on fixed tariffs were already benefiting from lower prices, so they would be excluded from the reduction.
British Gas, which has already cut its prices, has included those on fixed rates.
The decision to reduce bills only for those on standard tariffs has already been criticised by some consumer groups.
SSE said a typical dual fuel bill for one of its customers would go down from £1,224 a year to £1,174, a saving of £50.
That is in line with expectations, following the chancellor's decision to alter the ECO energy efficiency programme at the end of November 2013.
Like some other suppliers, SSE has promised to freeze prices for a year, unless there is a "marked and sustained increase" in wholesale or network costs.
Npower is now the only big energy supplier which has not announced the details of price cuts.
It put up bills by 10.4% in November 2013.