IMF to raise its global growth forecast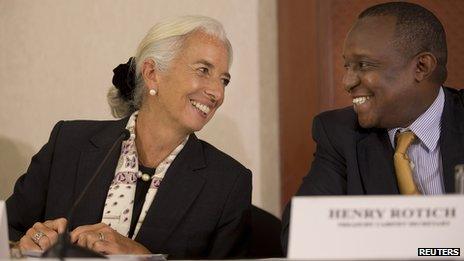 The International Monetary Fund will raise its forecast for global growth according to its managing director, Christine Lagarde.
She said the revision would come in the next three weeks but did not elaborate, saying that it would be premature to say any more.
In October the IMF lowered its growth forecasts, saying the global economy "remains in low gear".
It cut its growth forecast for 2014 by 0.2 of a percentage point to 3.6%.
It also reduced the estimate for 2013 growth by 0.3 of a point to 2.9%.
Back then it warned that a slower pace of expansion in emerging economies such as Brazil, China and India, was holding back global expansion.
Many economists have been surprised at the strength of the rebound in developed economies, particularly the United States and the UK.
Last month the US Commerce department revised US growth upwards to its fastest pace since late 2011.
It said GDP grew at an annualised rate of 4.1% between July and September, up from an earlier 3.6% estimate.
Citing those stronger growth figures, US President Barack Obama has said 2014 will be a "breakthrough year" for the US economy.
Also last month, growth estimates for the UK economy in 2013 were upgraded.
The Office for National Statistics (ONS) raised its forecast for annual growth to 1.9% from 1.5%.
Ms Lagarde made the comments during a press conference in Nairobi.
The IMF has lent $750m to Kenya to support reform and the government's financial position.