Detroit motor show: What next for the Big Three US carmakers?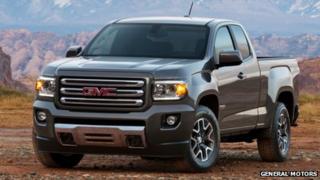 With the spectre of government bailouts behind them, the big three US carmakers - General Motors, Ford and Chrysler - are looking ahead to what's next in Detroit at this year's annual car show, which gets under way on Monday.
The feeling of a renewal - and change - is palpable here in Detroit.
When I picked up my rental car - a Ford this time, having learned last year that one does not show up to the signature US car show in a foreign model - the man driving my shuttle let out a low whistle of appreciation.
"I've never bought a Ford before, but now I'm considering," he told me, after glancing at my spiffy new Ford Fusion.
This year promises to be one of transition for the big three, with Mary Barra taking over from Dan Akerson as the head of GM, while Ford boss Alan Mulally is set to depart at the end of this year.
In 2013, Chrysler avoided a public stock offering and in the past fortnight came under the complete ownership of Italian carmaker Fiat, finally giving boss Sergio Marchionne the chance to integrate the two firms, which badly need each other.
All of these developments are seen as good omens for the resurgence of the US car industry in 2014.
"Detroit is on the offensive again and it's for very substantive reasons - good product, competitive costs, and improving brand reputation," says Guggenheim car analyst John Casesa.
"I haven't been able to say this in 20 years."
Year of the truck
More than 50 concept and production vehicles will be shown for the first time in Detroit.
Perhaps the most anticipated launch at this year's show is the rumoured unveiling of Ford's new F150 pick-up truck - the best selling vehicle in North America for the past 32 years.
The truck generates the lion's share of Ford's profits - last year, 763,402 of them were sold - and Ford has been busy selling down the old model in anticipation of this launch.
Most observers anticipate that the changes in the truck will be radical - including better fuel efficiency, long a goal for gas-guzzling trucks.
"It's very unusual to reinvent a mature product," says Mr Casesa, adding that in doing so, Alan Mulally would be repeating what he did as the head of Boeing, when he changed the plane manufacturer's signature 787.
And it's not just Ford that will be unveiling a new truck. GM unveiled its 2015 Canyon model at a glitzy event in Detroit on Sunday evening, the first helmed by Mary Barra, who is officially set to take over as head of GM on Wednesday.
The hope is that as the US housing industry continues to rebound, truck sales will grow in 2014 as consumers look to replace ageing vehicles.
"The trucks on the road are even older than the cars on the road," says Edmunds.com senior analyst Michelle Krebs, noting that the average age of cars on US roads is 11.2 years - the oldest ever driven.
'What are his goals?'
But not everyone is convinced that 2014 will bring only good news.
Gary Pacheco, 57, works at Chrysler's Trenton Plant here, making Pentastar engines - what he calls the "rock star" of the engine world. The plant churns out 1,850 engines a day.
He's been with the company for 19 years, through the disastrous DaimlerChrysler merger and of course through the dark days of 2008-09.
He's cautiously optimistic that Fiat's complete takeover of Chrysler, which was finalised in December with the blessing of the union to which he belongs, might result in positive changes for the firm.
"I'm glad that Fiat got involved in Chrysler. For the first time in a long time, I believe that they're bringing technology to the US, not taking Chrysler's good technology," says Mr Pacheco.
On Monday, Chrysler is expected to unveil its new 200 model, which includes technology from Fiat. The hope is that it can make inroads into the very competitive mid-size sedan market, which makes up about one in four new car sales in the US.
But after years of mergers - and after seeing union workers like him fired, only to be replaced with lower-cost vendors - Mr Pacheco is wary of what's to come.
"[Sergio] Marchionne's ego will not allow him to fail and I kind of like that," he says.
"But what are his goals? Will they include laying off workers?" he asks, adding that he has not been pleased with the way that the United Auto Workers (UAW) union has handled the merger.
No leader
But the Detroit car show is of course not just about the big three. Mercedes is expected to unveil its new C-class model, while many more foreign car makers will launch products aimed at the US consumers.
"[This year] is a much more balanced competitive field than in previous years, where there was one national group just had an advantage or disadvantage," says Guggenheim's Mr Casesa.
All of which bodes well for US carmakers as they look to the future - and to regain the top spot around the world.
"I think the environment in 2014 is one in which the US companies can continue to gain share and maybe accelerate their share gains."