US challenges China over hi-tech steel imports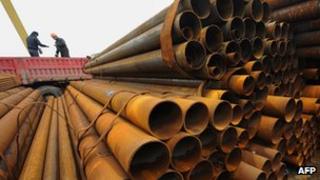 The US has accused China of failing to comply with a World Trade Organization directive requiring it to drop duties on hi-tech US steel imports.
The trade body had mediated in a dispute between the two nations in 2012 and found China to have been unfairly placing tariffs on US steel products.
Washington says the taxes cost US firms more than $250m (£152m) in exports.
China said it has since reduced the import duties, but the US maintains that this has been insufficient.
US Trade Representative Michael Froman said this was the first time it was challenging China's compliance with a WTO dispute ruling.
"The WTO found that China's duties are inconsistent with WTO rules. We were right and China was wrong. Unfortunately, it appears that China has not corrected those inconsistencies," he said.
The US is seeking talks with China within the next two weeks. If there is no satisfactory response, the case will be referred back to the WTO.
The specialty steel at the heart of the dispute is made by two American companies and used in items such as electric motors and generators.
The US had first brought the case to the WTO in 2010 after China had accused American exporters of selling their products at unfairly low prices in the Chinese market and levied punitive duties on them.