General Motors sales up 4% in 2013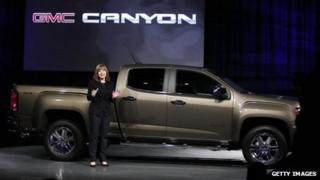 The world's second largest car manufacturer, General Motors, sold 9.71 million vehicles in 2013, an increase of 4% on the year before.
Sales in the US were up 7%, while in China and the UK they increased by 11%.
GM has been facing stiff competition from rival Volkswagen - the third biggest carmaker - and Toyota, which is the largest.
The company recently appointed Mary Barra as chief executive, the first female boss of a US carmaker.
General Motors is still the largest US auto firm, with Ford and Chrysler in second and third position.
The latest figures come after General Motors reported a fall in car sales in December 2013, in what was a disappointing month overall for the car industry in the US.
GM reported a 6.3% fall in sales compared with December 2012.
GM was bailed out by the US government in 2009 at the height of the financial crisis. The US Treasury spent $49.5bn, taking a 61% stake in the company.
However, at the end of 2013 the US government sold its remaining shares in GM. Overall, it lost about $10bn (£6bn) on the bailout.