China injects fresh cash into banks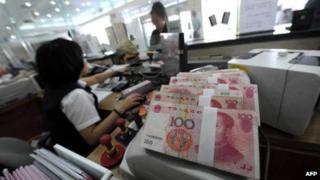 China's central bank has injected fresh liquidity into the country's large commercial banks ahead of the Lunar New Year holiday later this month.
The bank did not say how much cash it injected, but said the move was aimed at ensuring the "stability" of the monetary market ahead of the holidays.
The Lunar New Year is China's most important festival and sees increased demand for cash among consumers.
The move also comes as China's key interbank lending rate rose on Monday.
The seven-day repurchase rate, a key gauge of liquidity among banks, rose to nearly 6.5% on Monday, up from 4% earlier this month.
The People's Bank of China (PBOC) said it had injected the funds via short-term liquidity operations on Monday.
These operations are generally conducted by the central bank with individual lenders behind closed doors.
'Significant steps'
The central bank said it would inject further liquidity into the financial system via short-term loans to banks, known as reverse repurchase agreements, on Tuesday.
Reports on Tuesday morning indicated the bank had added nearly 255bn yuan ($42bn; £26bn) to the financial system via such agreements.
The move, coupled with the injection it carried out on Monday, saw the interbank lending rate come down.
The seven-day repurchase rate dropped to 5.25% on Tuesday.
The state-owned Xinhua news agency said the central bank had also urged financial institutions to "strengthen liquidity and asset management to safeguard monetary market stability" ahead of the Lunar New Year.
"These are significant steps by the PBOC," said Zhang Zhiwei, an economist with Nomura, in Hong Kong.
"These measures should help to reduce the liquidity risk in the interbank market and the default risk in the corporate sector over the next several weeks."