Netflix users rise past 44 million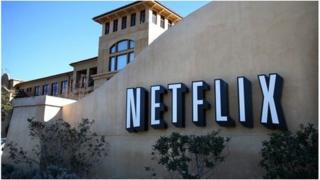 TV and film streaming service Netflix said it added four million new users in the last three months of 2013 to give it 44 million international viewers.
The company, which is behind the series House of Cards, also reported a jump in net profits to $48m (£29m) in the fourth quarter from $8m for the same period a year ago.
Netflix said 2.3 million new customers had joined in the US alone.
The report sent its share up 16% at one point in after-hours trading.
Internationally, user numbers grew by 1.6 million in the last quarter.
Turnover rose 24% compared with the previous year to just short of $1.2bn.
Netflix said it expected to add another four million users by the end of the current quarter.
Netflix original series have received over 80 major award nominations and wins, including Emmy and Golden Globe recognition for House of Cards, Orange is the New Black, Arrested Development and Hemlock Grove.
The company said in a statement: "It's been a good year for Netflix. People around the world want what we offer: consumer-in-control internet television."