Toyota retains number one slot in global car sales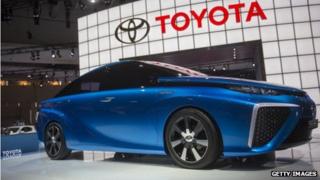 Japan's Toyota has kept its position as the world's largest carmaker by sales.
Toyota sold 9.98 million vehicles during 2013, which was 270,000 more than its closest rival - US car giant General Motors.
Sales were up 2% from the year before and Toyota also announced plans to sell 10.32 million vehicles in 2014.
Toyota has managed to revive its fortunes after the damage caused to Japanese industrial production by the 2011 tsunami.
The tsunami and earthquake in 2011 caused widespread devastation in the north east of Japan and affected car suppliers and production.
Toyota has also suffered from reputational issues after a series of recalls and safety issues. Since 2009, more than 14 million vehicles have been recalled in the US following several faults including sticky pedals and brake problems.
Abenomics
Car industry expert Professor David Bailey, from Aston Business School, in Birmingham, said that Toyota's success is in part due to Japanese monetary policy introduced by Prime Minister Shinzo Abe
At the end of 2013, Japan's exports saw their biggest annual rise for three years, largely thanks to more car shipments. Car exports rose 31.3% year-on-year, as the Japanese yen saw big falls in value against the dollar.
Prof Bailey said Toyota had "benefited greatly from Abenomics and the depreciation of the yen, both in making exports from Japan cheaper and in converting profits back into yen".
He added that in addition to this, the company has changed strategy and invested in the right kinds of new technology.
"The firm has weathered the storm over recalls and the earthquake and tsunami disruptions well. It has gone back to its core strategy of focusing on quality. The firm has also made the right bets on technology, in terms of developing hybrid technologies.
"These will be key technologies over the next few years and Toyota has led the way with them," he said.
Encouraging figures
Prior to 2008, when GM first relinquished the top spot to Toyota, the US firm had been the world's leader in car sales for more than 70 years.
Toyota then led the way until 2011, when the disruption caused by the tsunami saw it slip to third place behind GM and Volkswagen. However, it regained the number one position in 2012.
GM sold 9.71 million vehicles last year, while Germany's Volkswagen came in third with sales of 9.5 million.
Toyota's sales growth has been strong internationally, especially its Lexus and Prius hybrid models, although it saw sales in its domestic market fall.
It's target of sales of 10.32 million sales for 2014 is regarded as significant as no carmaker has topped sales of 10 million.
Prof Bailey said: "GM and VW lead over Toyota in China, but in struggling Europe, Toyota's sales are unchanged while GM's are down by over 4% as the latter continues to struggle with its unprofitable European operation.
"And while the US market has been buoyant, there are fears that heavy discounting may return, and could dent GM's profits given how dependent the firm is on this market."
The three largest carmakers are all regarded as having had a strong 2013, and the figures have been greeted as an encouraging sign of health for the global automotive sector.