Microsoft reports better-than-expected earnings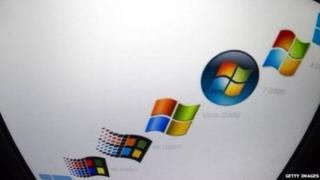 Microsoft, the world's largest software firm, has posted better-than-expected earnings for the October-to-December quarter.
The firm reported a net income of $6.56bn (£3.94bn) for the quarter, up from $6.38bn a year earlier.
Its earnings were boosted by strong sales of its new Xbox game console and its Surface tablets during the holiday season.
The company also saw strong demand from businesses for its cloud services.
Overall, the firm's revenue rose 14% during the quarter to $24.5bn. Its shares rose close to 4% on the news in after-hours trading.
Microsoft's chief executive, Steve Ballmer, called it a great quarter and said that investments the firm was making in devices and services was driving the strong results.
The quarterly results showed a 13% increase in consumer sales. This was boosted by 7.4 million unit sales of Xbox consoles, up from 5.9 million a year earlier.
The new Xbox One, which was launched in November, contributed more than half of overall Xbox sales numbers in the quarter.
Sales of the firm's cloud programs, such as Office 365 and Azure, more than doubled in the December quarter from a year earlier, while sales of its Surface tablets doubled from the previous quarter.
Leaving note
Mr Ballmer announced in August last year that he would retire within 12 months, but as the company reported its latest results, it did not say anything about his replacement.
He has been with the Microsoft for 33 years and succeeded founder Bill Gates as chief executive in 2000, but there have been concerns over what state he would leave the firm in.
Windows software is still used on the majority of personal computers, but investors have criticised the company for not reacting quickly enough to the way Apple and Google have led the way in the fast-growing tablet and smartphone sectors.
The software giant announced a transformation plan last year which Mr Ballmer said would address these issues.
Analysts said the firm's latest earnings report, which could be the last one Mr Ballmer presides over, would allow him to leave on a positive note.
"It's a good print to ride off into the sunset with, for the current chief executive," said Colin Gillis from BGC Financial.
However, others have questioned the company's new focus on manufacturing hardware like tablets and smartphones.
"I would call it a Herculean challenge to turn around that mobile business,'' said Daniel Ives, senior technology analyst with FBR Capital Markets.
"They have a lot of wood to chop ahead," he added.