Lloyds customers card problems: Your experiences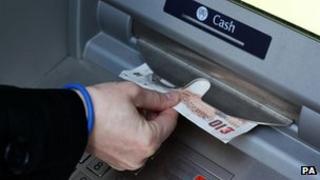 Lloyds Banking Group says it has fixed problems that affected customers with Halifax, Lloyds, Bank of Scotland and TSB using ATMs and debit cards.
Problems with card transactions began to be reported on Sunday afternoon.
The chief executive of TSB, Paul Pester, tweeted an apology, saying: "I'm working hard with my team now to try to fix the problems."
People across the country have bee emailing BBC News to talk about the problems they have encountered, with many talking about embarrassing situations they found themselves in. Below is a selection of their stories.
I was at first embarrassed when my card was rejected while on a day out shopping in Leicester. Then, as an expectant mum, I was then frightened and upset at being trapped in a car park with no way to pay. We are so used to not carrying cash these days, so that when a bank lets you down we are stuck. Hollow apologies are no good in this case. If it was not for the kindness of strangers I don't know what would have happened. Kaddie Jalili, Corby, Northamptonshire
I work as a waiter at a popular chain restaurant and served a couple of unfortunate customers who had this issue. Of course, they didn't know what the problem was and neither did we. All that happened was the card machines displayed transaction failed notices. It's a big nuisance and causes delays for other customers. It has a knock-on effect and banks need to be much more reliable if people are going to rely on their debit and credit cards to pay for services. Sam, Bournemouth
I am very disappointed and angry at TSB. I walked all the way to my shops to get food and my card was declined at the till. I then tried a cash machine and that didn't work. I was trying to buy food as I have had nothing to eat all day. I came home and phoned them up and spent an hour waiting on the phone to get a 30-second response saying that their system was down. They should have put out a message at the beginning of the call saying there was problems rather than have me wait and pay for an hour on the phone for nothing. I am very angry. Jack Gordon, Edinburgh
I'm disgusted. I went shopping today for baby milk and baby food. I have two young ones at home and my card didn't work. When I rang TSB I got put on hold for 30 minutes only to be told there is nothing they can do and they are working on it. I explained I have a young baby and couldn't get his food. I'm just very stressed. I did ask how long they thought it would take and they couldn't give any information. Tracy Morgan, Liverpool
I was trying to buy some headphones when my card was rejected. I then checked at ATMs and was rejected by all of them. I began to worry it that I'd had all my money taken from my account but it was thanks to Twitter that I saw other people with the same problem. Anthony, Cambridge
I tried using my debit card in the supermarket today and the transaction was declined twice. I thought it was because I was in the process of switching banks as I have just opened a new account with Nationwide, but after seeing this news report I now know it is a fault with Lloyds Banking Group. Leanne Seaward, Dorset
I am a Halifax customer. I tried to pay my tax bill online with my debit card to no avail. I know I have sufficient funds to pay the tax bill in my current account. This happened at 1500 GMT. I even tried to use my wife's card but this was also in vain. I am shocked that there has been no announcement on the Halifax website. Despite trying numerous times to speak to someone, I have been told 'we are experiencing a "large number of calls". I'm extremely disappointed with Halifax. I am worried I will not be able to pay my tax bill in time. Neil Shroff, Nottingham
I was embarrassed at a petrol station. After filling up my car my debit card was declined three times for no apparent reason. Luckily I was only 20 minutes away from home so someone could come and pay for me! Perhaps a warning text to customers would have prevented me and many others being in that predicament. The attendant had no idea either and just assumed I had insufficient funds. Elise Robinson, Bedford, England
My partner and I went shopping in Tesco, excited about having nice food for dinner - but unfortunately when I went to pay my card was declined. The lady at the till had to try it twice. It was embarrassing as I did not bring any other card or cash with me. So I then told the lady I would have to go to the cash machine outside. I couldn't get any cash from the machine either. I had to leave our trolley next to the till and go home to collect my credit card. Marie Greaves, Risca, South Wales
I had a very embarrassing moment at a supermarket today when my card was rejected and I had to use the small amount of cash in purse to purchase select items only. There was a large queue and I could feel the annoyance of the staff and the waiting customers. I then went to a cash point which again refused to give me any cash. Donna Newell, Bristol
It was very embarrassing and annoying. I tried to pay for hundreds of pounds of furniture and my card was declined. I knew I had the money in the account. I spent 15 or 20 minutes on hold in front member of staff trying to find out more. In the end my wife paid with her card. I spent another 10 or 15 minutes on hold to Halifax in the car - to be told the was a shared problem. I'm glad I was not buying petrol, or checking out of a hotel. Richard Lawrence, Reading
I tried a cash point in Bangor, County Down, in order to give cash to my daughter for her night out before I flew back to England for work. The cashpoint was not working and my daughter had to cancel her plans! Very frustrating. Mark Dally, Belfast