Mulberry shares slump on profit warning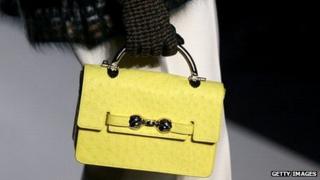 UK luxury handbag maker Mulberry has said its full-year profits will "substantially" miss expectations, sending its shares down by 27%.
It said retail sales fell over the key Christmas trading period, falling 7% in the eight weeks to 25 January.
UK trading "deteriorated" over the period, Mulberry said, with sales hit by price discounting from rivals.
In addition, it said had experienced "significant" cancellations of wholesale orders from South Korea.
The company now expects total sales for the year to 31 March to be "broadly in-line" with the previous year.
Mulberry has enjoyed rapid growth over the past few years, helped by its Bayswater and Alexa handbag designs.
However, last year, its creative director Emma Hill - who had been credited with helping to turn the firm into a globally recognised brand - left the company. Her replacement has still not been named.
"Due to tough trading conditions over the Christmas period which saw significant discounting across the market, Mulberry has experienced lower than expected UK retail sales which, together with wholesale order cancellations from Korea, will adversely impact our profit this year," said chief executive Bruno Guillon.
Mr Guillon told the Reuters news agency that pre-tax profits for the financial year would be about £19m, compared with analysts' forecasts of about £27m.
Shares in the handbag maker fell 24% in early morning trading after the company said UK trading had "deteriorated" over the Christmas period.