US Federal Reserve slows monthly bond-buying to $65bn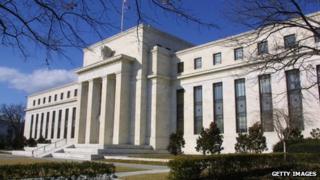 The US Federal Reserve announced a $10bn (£6bn) reduction in its monthly bond purchases from $75bn to $65bn in the second straight month of winding down stimulus efforts.
The central bank had been buying bonds in an effort to keep interest rates low and stimulate growth.
In a statement, the Fed said that "growth in economic activity picked up" since it last met in December.
Although the move was expected, US shares still fell on the news.
The Fed left its overnight interest rate unchanged at 0% - the level it has been at since December 2008.
Since its last meeting, the central bank said it had seen "improvement in economic activity and labour market conditions... consistent with growing underlying strength in the broader economy".
The move comes amidst ongoing turmoil in emerging markets, which have been hurt by the prospect of an increase in global interest rates.
Turkey raised its overnight borrowing rate after emergency meetings late on Tuesday to try and combat some investor flight.
This was the final meeting for outgoing Fed chairman Ben Bernanke, as Janet Yellen is set to take over once he steps down at the end of this week.
'No surprises'
For the first time since 2011, the decision to keep slowing down the purchases of long-term bonds was backed by all members of the monetary policy committee.
Marc Chandler, global head of currency strategy at Brown Brothers Harriman, wrote in a note to clients that this was a Fed that "stayed the course".
"On balance, there were no surprises here," wrote Mr Chandler, while noting that the Fed's statement made no mention of the recent turmoil in emerging markets like Turkey, South Africa and Argentina.
Despite the fact that most analysts and investors had been expecting the news, the Dow Jones Industrial Average plunged lower after the Fed announcement.
The exchange was nearly 200 points - or 1.2% - down at the end of trading on Wednesday, with the S&P 500 and Nasdaq both finishing lower as well.
Global glance
Some analysts said that while the Fed may not have explicitly mentioned emerging markets in its statement, it would be an oversight to think the central bank is not keeping a close eye on the global economy.
"The [Federal Open Market Committee] FOMC will want to observe the domestic and international market reaction to today's tapering decision," said Jefferies chief US economist Ward McCarthy.
Mr McCarthy added the reaction will almost certainly weigh on the Fed's decision on whether or not to continue its efforts in March.