Online grocer Ocado sees losses widen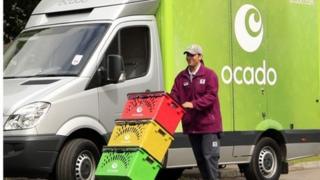 Ocado has reported widening losses, but the online grocer - which is yet to report an annual profit - says it has made "significant progress".
The firm reported a loss of £12.5m for 2013, compared with a £0.6m loss the year before, as a result of expansion costs and investment in its partnership with supermarket Morrisons.
Overall, sales rose 18.6% to £843m during the year.
Separately, Ocado said co-founder Jason Gissings would leave in May.
"He has four young children and wants to spend more time with them," it said in a statement.
Structural shift
Ocado said 2013 was a year of "significant progress", highlighting a 40% increase in new customers compared with 2012, and higher average spending by users.
It said the average customer basket was now worth £113.53, compared with £112.10 in 2012.
The firm opened a new distribution centre in Warwickshire last year, linked to its 25-year online delivery deal with Morrisons, which added to the firm's losses.
Ocado said it had also "soft launched" its new online pet store, Fetch, and expects to complete its roll-out this year.
"The momentum seems unstoppable... we are confident that we are well positioned to benefit from future strategic developments as online grocery shopping increases in popularity," said chief executive Tim Steiner.
However, John Ibbotson, director of retail consultants Retail Vision, said he expected Ocado to be loss-making "for some time yet".
"The structural shift to online is unstoppable but it's real world logistics and economics that are keeping Ocado out of profit. The economics can never stack up when Ocado is miles away from its customers while its rivals are delivering a short distance from the local store," he said.
Shares in Ocado, which have risen more than 200% since it announced its tie-up with Morrisons last year, closed 2.6% lower at 510p.