Energy firms told to cut gas bills because wholesale prices are down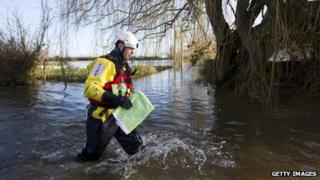 Analysts are telling energy firms that it is time to cut consumer gas bills, as a result of falling wholesale prices.
They say that consumers should expect as much as £30 a year off their bill.
Wholesale prices for the coming year have fallen by as much as 16% since December, thanks in part to the mild weather.
But energy companies rejected the idea, saying that wholesale prices fluctuate on a daily basis.
They also said that the cost of buying the gas only makes up part of a consumer's energy bill.
'Lower your prices'
Energy companies buy wholesale gas on the futures market, to try to hedge - or protect - themselves - against future price rises.
In December, the price for a one-year contract starting in April 2014 was 72 pence a therm.
But that has now fallen to 60.5 pence, a reduction of 16%.
As a result, analysts say energy suppliers should pass on that cut to their customers.
"Come on, guys, you should start lowering your prices," said Trevor Sikorski, head of natural gas analysis at Energy Aspects.
Demand for gas has fallen, as a result of the mild weather. Coupled with large stockpiles, that has meant lower prices.
"Although we've had a wet winter, we've had a mild winter," said Mr Sikorski.
We've also gone through two of the coldest winter months, without it being cold. So storage levels are very comfortable," he told the BBC.
'No cut'
Another industry expert, Niall Trimble, said consumers should expect a reduction of £30 this year on their gas bills.
Mr Trimble, the managing director of the consultancy firm the Energy Contract Company, told suppliers: "It's time to consider the possibility of a price cut."
But British Gas, the largest supplier in the UK, said it could not comment on day-to-day fluctuations in prices.
"We do our hedging and pricing on a yearly basis, and we don't look at one point in the market," a spokeswoman told the BBC.
As a result, she said, British Gas would not consider a cut at the moment.
Npower also said it had no plans to cut prices, as a fall in wholesale costs now would not be reflected until next year.
A spokesman said they tried to smooth out the variation in costs, by hedging.
"Similarly, when wholesale prices go up, we don't react instantly," he said.
Others pointed out that the wholesale cost of gas only accounts for just over half of the average bill.
"Wholesale energy costs make up 55% of the average gas bill and 47% of the average dual fuel bill," said a spokesman for the industry body, Energy UK.
Dual fuel bills have risen by around £52 on average this year, or by 4.3%, following the government's decision to adjust green and social levies just before Christmas.