Shop vacancy rate lowest for four years, research suggests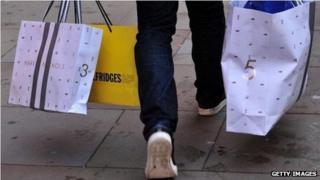 There has been a marked improvement in the number of empty shops on the UK's High Streets, research suggests.
The Local Data Company, which monitors more than 2,000 town and shopping centres and retail parks, said average vacancy rates were below 14% for the first time in four years.
But its report also reveals a growing North-South divide, with some High Streets falling into further decline.
However, there are still more than 50,000 empty shops in town centres.
At its peak in 2012, vacancy rates were 14.6%, compared with 13.9% in December.
Some of the vacancies were filled by food and leisure businesses.
Dominance
The report, though, also shows big regional variations.
Vacancy rates in the North West, North East and East of England have all increased in the past 12 months.
The North West is the worst hit with more than 17% of shops empty - more than double the percentage in London.
The data also shows the increasing impact of large shopping centres and retail parks and their dominance of the retail landscape.
Analysis of the 12 biggest shopping centres found most of the surrounding weaker towns and High Streets continue to decline, raising questions over their future direction and viability.