From Sheffield son to Silicon Valley multimillionaire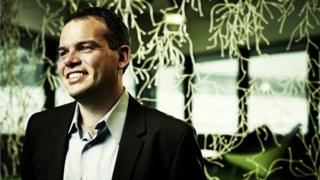 David Richards, multimillionaire chief executive of software company Wandisco, has come a long way from his humble north-of-England roots.
The 43-year-old presides over a company worth more than £298m ($491m), of which his 17% stake totals about £51m.
He lives in the San Francisco Bay Area, where he is in the process of building a new £2.4m home complete with its own vineyard.
His neighbours are fellow Silicon Valley technology millionaires.
It is not a bad state of affairs for the son - and grandson - of steelworkers from Sheffield.
'Long-haired yetis'
Born in 1970, Mr Richards says that from an early age he knew he didn't want to follow his father into the steel industry.
"I was determined to get out and manage my own future," he says.
Deciding against going to university, he took a job as a management trainee at Barclays Bank. It was an early, but rare, career mistake.
Mr Richards says: "It taught me that the one thing I definitely didn't want to do was become a manager in Barclays Bank."
Quickly realising the error of his ways, and following some advice from an old teacher, he signed up for a degree in computer science and business studies at the then Huddersfield Polytechnic.
"At first I [again] wondered what I'd done," he says, "because computer scientists seemed like long-haired yetis who never went out and never met girls. But I persevered."
After graduating in 1992, Mr Richards wanted big city opportunities, and so he moved to London to work for Druid, a rapidly growing software consultancy.
Offered the choice between a company car and stock options, the business-minded Mr Richards wisely chose the latter.
After Druid floated on the stock market, he found himself a near-millionaire, aged just 22.
"My first car was a C-Class Mercedes which I paid for in cash," he says. "I just thought this was the way life was meant to be."
Frosty encounter
Mr Richards then decided to set up his own consultancy, offering his expertise in business software.
"I could have gone to work for some very big companies, but I had the drive to set up my own firm instead," he says.
He found that his services were in high demand in the mid-1990s, as an ever growing number of companies installed software systems.
It was very lucrative work, but by then Mr Richards had big ambitions to move across the Atlantic.
"I wanted to get the US by hook or by crook," he says. "The internet was taking off and Silicon Valley beckoned. It was where it was all happening."
At that time Mr Richards also met his future wife, Jane, in a hotel bar in Bath. "She was a bit rude to me," he says, after a friend mistook her for a barmaid.
Despite the frosty nature of their first encounter, romance blossomed and she accompanied him to the US. They headed first to New York before settling in California.
'It was a travesty'
In 1998, and now based in Silicon Valley, Mr Richards launched a business software company called Insevo. He admits that he learnt a harsh lesson in how he funded it.
"I went to see some venture capitalists and managed to raise $25m [£15m] very quickly," he says. "This was just what you did at the time - it was the perceived wisdom, and I was a sheep."
But in business, access to easy money can lead to some poor investment decisions, as the approaching dotcom crash of 2000 was to make painfully evident.
In his view, venture capitalists looking for a quick profit imposed restrictive big business practices on Insevo, a rapidly growing start-up that should have remained nimble and flexible.
Ironically, his investors turned down an offer for the company worth "tens of millions of dollars", he says, before eventually selling up a few years after the crash for a lot less.
"It was a travesty," Mr Richards says, with some bitterness still evident.
'True genius'
Mr Richards left to set up Librados - "freed men" in Spanish - with four other partners, vowing not to rely on venture capital again.
Within a year the company, which did much the same as Insevo, had 50 customers, and was then bought out for for $10m.
"We were like killers," says Mr Richards, recalling his company's rapid growth and high-energy work ethic.
Yet it was meeting a Silicon Valley-based IT expert called Yeturu Aahlad, which Mr Richards says changed his life.
"I knew a true genius when I saw one," says Mr Richards.
Dr Aahlad had devised a way of replicating and synchronising multiple computer databases in real-time, so that if one server crashed the whole system could still function. The discipline is called "wide area network distributed computing".
Mr Richards and Dr Aahlad decided to team up and form a new company to offer the service.
Based in San Ramon, California, they named their business Wandisco, which is an acronym of wide area network distributed computing.
Sales grew fast, says Mr Richards, because in the era of big data "companies simply can't afford for their databases to go down".
He adds: "If an investment bank cannot trade, it can cost it $100m a minute in lost business."
Wandisco's clients include big banks, utilities, governments and retailers, with the US and China as its biggest markets.
And in 2012 the company successfully floated on the London Stock Exchange's Alternative Investment Market.
But despite Mr Richards' dream Californian lifestyle, he remains true to his Sheffield roots, employing 70 people in a sister head office there.