First-time buyers driving mortgage market, says CML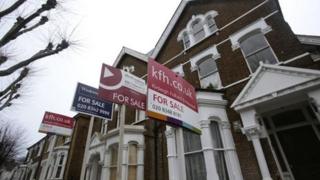 First-time buyers have been "driving the mortgage market forward" in the past year, according to the Council of Mortgage Lenders (CML).
The number of loans made to first-time buyers was up by 23% in 2013 compared with 2012 but, on average, these borrowers still needed to find a 20% deposit.
The total number of loans to first-time buyers reached 268,800, the CML said.
That was about 44% of all home loans advanced for house purchases in 2013.
This was the highest proportion since the year 2000.
However, the total amount of money borrowed by homeowners last year was still less than half of that seen at the peak of the housing boom in 2007.
Affordability
First-time buyer numbers picked up strongly towards the end of the year, which the CML said was healthy for the market as a whole.
"Good housing market recoveries start because first-time buyers re-enter the market," said Paul Smee, director general of the CML.
However, the group's figures show that these people were borrowing a greater multiple of their income in 2013 (3.33 times) than they did the previous year (3.26 times).
Some commentators have suggested that some first-time buyers are feeling pressure to get on the property ladder as prices are starting to rise.
However, Mr Smee said that the overall sector was made up of a series of local, or regional, markets, and there was little sign of a housing bubble outside of the south east of England.
He said that the CML was keen to see more homes being built to reduce some of the pressure that was pushing up prices.
'Cumbersome' applications
Overall, the number of mortgages advanced for house purchases was up 11% in 2013 compared with the previous year.
The CML said that the introduction of government-backed schemes such as Help to Buy had helped to drive the market.
But, with demand building, the CML said that the process of securing a mortgage would become "more cumbersome and lengthy" for borrowers.
New rules that come into force in April mean that mortgage applicants are likely to be asked more questions and provide more evidence to prove that they can afford repayments, even if interest rates rise.
Meanwhile, homeowners in flood-hit parts of the UK have been offered support by a number of banks and building societies.
Among other measures, lenders have said that householders might be able to take a mortgage holiday of up to three months if they face extra costs as a result of the flooding.