Man Utd revenues boosted by TV and sponsorship deals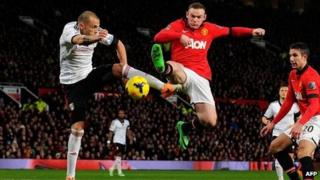 Rising income at Manchester United will be spent on new players to boost their lacklustre performance.
The reigning Premier League champions said revenues rose 11.6% from a year earlier to £122.9m in the final three months of 2013.
Commercial sales were up by 18.8% on the same period in 2012, while broadcasting revenues grew by 18.7%.
Revenue from sponsorship deals jumped by nearly 40%, the club said, with six new deals being activated.
Ed Woodward, Executive Vice Chairman said on a conference call: "Over the medium term, we would expect annual net player [capital expenditure] to track higher than our historical average as we invest in our squad."
The increases in revenues came despite United enduring a tough season, their first under new manager David Moyes.
The team are currently seventh in the league and could miss out on a place in the UEFA Champions League for the first time since 1995.
The club is forecasting revenue for the current season of between £420m and £430m, up from £363m last season.
'Record quarter'
Mr Woodward said: "We once again achieved a record revenue quarter with strong contributions from our commercial and broadcasting businesses despite the current league position, which everyone from the team manager down has acknowledged is disappointing."
Even if the club did miss out on a Champions League place, Mr Woodward said he believed there was enough new business in the pipeline to compensate, including improved Premier League TV contracts and new sponsorship deals.
Prof Chris Brady, from the Centre for Sports Business at Salford University, said: "If I was an investor, I'd be saying: your forecasts were based on being third in the Premier League, the finals of the Champions League and in the quarter-finals of the FA Cup.
"Well, they're not in the Premier League, they're out of the FA Cup and it's not looking good for the Champions League either."
The club, owned by the US Glazer family, said they were in talks with several sportswear companies, including existing supplier Nike, about replacing their current contract that expires next year.
On an adjusted basis, before interest and tax, earnings were up 1.6% at £51m.