Rolls-Royce: Two arrested in fraud probe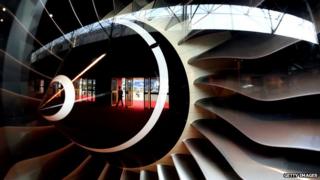 Two men have been arrested in London as part of an investigation by the Serious Fraud Office (SFO) into Rolls-Royce's activities in Asia.
The SFO said a number of search warrants had also been issued across the city.
The office said at the end of last year it had opened a formal investigation into the engine maker about bribery and corruption in overseas markets.
The firm, which releases annual results on Thursday, declined to comment.
"In connection with an SFO investigation, we can confirm a number of search warrants have been executed at various properties in London today, Wednesday, 12 February 2014," an SFO spokesman said.
"Two men were also arrested. Officers from the National Crime Agency and City of London Police assisted with the operation."
Some of the allegations date back more than 10 years.
The company, the world's second biggest manufacturer of aircraft engines, said last year the SFO was investigating concerns of possible bribery in China and Indonesia.
The investigation is focusing on Rolls-Royce's "intermediaries", which are local companies that handle sales, distribution, repair and maintenance in countries where the British firm does not have enough people on the ground.
Allegations of corruption are nothing new in the defence industry. Europe's largest defence contractor, BAE Systems, was fined by the US and the UK in 2010 following a long-running corruption investigation.
And in January, India cancelled a helicopter deal with Italian defence giant Finmeccanica after allegations of corruption.
Rolls-Royce, which employs about 45,000 people worldwide, including major sites at Derby and Bristol, appointed lawyer Lord Gold last year to review the company's compliance procedures in the wake of the allegations against it.