Shale gas pioneer plans world's first offshore wells in Irish Sea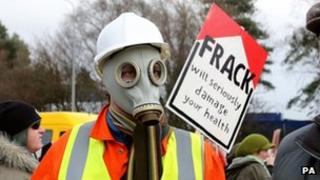 The founder of shale gas firm Cuadrilla is planning a venture to frack in the Irish Sea, the BBC has learned.
Dr Chris Cornelius believes there are large volumes of offshore shale gas that could be extracted.
If successful, it would be the first such project in the world.
Dr Cornelius' new firm Nebula Resources was awarded three licences in the Irish Sea last month by the Department for Energy and Climate Change and hopes to begin exploration soon.
"Certainly offshore shale gas is a new concept, and there's no reason with the UK's history of offshore development that we can't develop these resources offshore," he told the BBC.
No longer involved with Cuadrilla, he now hopes to drill the world's first offshore shale gas wells.
Avoid negotiations
Shale gas is extracted using the controversial technique of hydraulic fracturing, or fracking, which involves injecting water, sand and chemicals under high pressure into rocks, to break them up and release the natural gas trapped within.
Fracking has produced vast quantities of gas and oil in the US, transforming the country's energy market. But projects in Europe have been slow to take off, beset with opposition from government and local communities.
Many environmentalists believe that fracking can damage water supplies, and oppose the extraction of new fossil fuel resources. But drilling offshore avoids the need for difficult negotiations with local councils, communities and landholders.
The area covered by the Nebula licences stretches west from Blackpool into Morecambe Bay, and is not far from the site where Cuadrilla has announced plans to drill and fracture two new onshore gas wells.
To the east, a large conventional offshore gas field owned by Centrica has been producing for many years, and a small offshore oil field, the Lennox, lies to the south.
Based on existing geological data, Dr Cornelius believes that a considerable quantity of gas is in place - up to 250 trillion cubic feet, which would be more than Cuadrilla's estimates for its onshore resources. There is also the possibility of finding oil.
Billion dollar question
The British Geological Survey has estimated that the UK's total offshore shale gas resources could be between five and 10 times the size of the resources available onshore.
"We're very comfortable that the resource is there and the numbers are absolutely ginormous," Dr Cornelius said. "Is any of that exploitable? That's the billion dollar question and we won't know that for many years."
Though it has only recently become controversial, fracking has been used on a smaller scale for many years, to improve the flow from conventional oil and gas wells.
It has also been routinely undertaken offshore on conventional reserves, including in the North Sea. But fracking the large numbers of wells needed to extract offshore shale gas commercially has never been done.
Professor Dieter Helm of Oxford University is sceptical about whether offshore shale gas could be a big contributor to UK energy in the next decade, but says that it could have potential in the longer term.
"It's perfectly plausible that in 20, 30 or 40 years, the fracking technology will have so advanced and the way in which we deal with the offshore environment will have so advanced that this could be a really big industry. The task in the next 10 years is to try these things out, see if they work."