Retailers urge new business rate system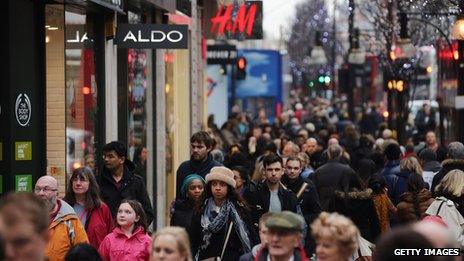 There should be a new business rate system for shops based on energy use, the retailing body the British Retail Consortium (BRC) has said.
The BRC suggests replacing the current system with a tax based on measures such as energy usage and job creation.
Advances in these areas could result in a reduction in the rates bill.
Rates are based on 2008 valuations, before the financial crisis had fully hit and when the cost of renting a shop or an office was often higher than now.
Some business groups have complained for some time that the rates system discourages investment and needs modernising.
The BRC, which produced the plan with the accountants Ernst and Young, said the current system was "outdated and cumbersome".
Its suggestions also include offering a discount to businesses based on the level of corporation tax they pay.
However, the BRC's proposal has attracted criticism, with the former Wickes and Iceland chief executive, Bill Grimsey, saying it would harm small retailers and manufacturers.
The government is preparing a discussion document on the subject for publication in the spring.
The director general of the BRC, Helen Dickinson, said: "We have a once-in-a-generation chance to fundamentally change the business rates system and the time is right to think creatively and in the best long-term economic interests of the UK.
"These potential options would be good for the public, the economy and businesses small and large, while still providing significant tax revenues for the government."
In December, Chancellor George Osborne announced plans to offer small retailers a £1,000 discount on their business rates and a cap of 2% on future rate increases.
A Treasury spokeswoman said: "At the Autumn Statement 2013, the government announced over £1bn of business rates support, which will benefit all 1.8 million ratepayers.
"We welcome the BRC's contribution to the discussion and will consider their options on administrative reform as part of our review."
Related Internet Links
The BBC is not responsible for the content of external sites.