China removes $8bn from money markets to control lending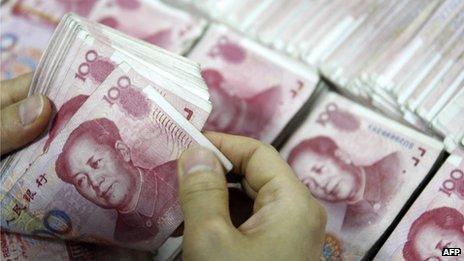 China's central bank has removed nearly $8bn (£4.7bn) from the money markets in a bid to control the amount of credit in the country's financial system.
According to reports, the People's Bank of China (PBOC) did so by issuing 14-day forward bond repurchase agreements, also known as forward repos.
It is the first time since June the PBOC has used forward repos, and comes after China released unusually strong economic data earlier this year.
Chinese stocks fell in Shanghai.
A trader at a Chinese commercial bank in Shanghai told the Reuters news agency that the move "sent a strong signal to the markets that the central bank is not letting liquidity ease".
"If money market conditions remain sloppy, the central bank could even step up efforts to mop up excess," he said.
China has been looking to suck excess cash from its open-market operations to reduce the risks of shadow banking, or informal lending to businesses.
Shadow banking has been identified as a major risk to China's future growth, because of the possibility of large debts turning sour.
Chinese banks traditionally see a spurt in lending at the beginning of the year, as businesses and consumers borrow money to fund spending in the new year.
In January, new local currency loans nearly tripled from the month before to $218bn.
By reducing the amount of money available, the government makes it harder for banks to borrow and move the money into risky investments.
However, in its attempt to rein in credit, China's money conditions have been volatile over the past six months.
China's seven-day bond repurchase rate - a measure of short-term liquidity - surged to double digit territory last year on concerns there was not enough money in the system.
This caused a sell-off in global markets last year, spurring China's central bank to make a series of short-term capital injections to soothe investors.
In a monetary policy report released in February, the PBOC said volatility in money-market rates is set to persist.
"When the valve of liquidity starts to tame and curb excessive credit expansion, money-market rates, or the cost of liquidity, will reflect that," it said.
"The market needs to tolerate reasonable rate changes so that rates can be effective in allocating resources and modifying the behaviour of market players."