Hong Kong money senders battle for Philippine trade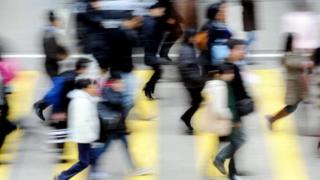 The Central business district of Hong Kong is always busy.
During the week, it is full of sharp-suited financial services workers rushing to and from dozens of skyscrapers in the area.
But every Sunday, it is the setting for an enormous outdoor party, as thousands of the city's Filipino domestic workers gather to enjoy their day off.
The neighbourhood comes alive with the sound of Tagalog, the first language of the Philippines.
The sight of expatriate Filipinos singing, dancing and socialising has become a feature of Hong Kong life.
But they are not just coming together for social reasons. There's a business angle.
Perlita Bruno, 47, has been making the familiar trip to World-Wide Plaza - a three-storey shopping mall in Central - for almost 20 years.
At least one Sunday a month, the mother of two comes to send money to her family in the northern Philippines.
She always saves and remits half her monthly salary of 6,000 Hong Kong dollars ($774; £464) from her job as a domestic helper.
"I work here for my family, for my kids' education, so that they have a good life," Ms Bruno says, waiting in the queue at PNB Global.
"Because we are very poor in the Philippines," she adds.
PNB Global is a remittance and financial company owned by the Manila-listed Philippine National Bank.
It is one of a number of businesses catering to the needs of more than 166,000 Filipino domestic helpers in Hong Kong.
In all there are more than 10 million Filipino expatriates - about 10% of the population - working outside their country.
Record remittances
They are commonly called OFWs - overseas Filipino workers - and their remittances are the biggest source of foreign exchange for the Philippines.
The money they send home is a key driver of domestic consumption, which accounts for the bulk of economic activity in the sprawling archipelago.
Last year, cash remittances hit a record high of $22.8bn, up 6.4% from 2012, and exceeding expectations of a 5% rise, according to the Bangko Sentral ng Pilipinas, the country's central bank.
The top three sources of remittances were the US, Saudi Arabia and the UK, and globally the Philippines is the third largest recipient of remittances.
According to the Pew Research Center, remittances worldwide have nearly tripled since 2000 and fell only for one year after the global financial crisis of 2009.
India is the largest recipient with $71bn of money received, followed by China with $60.2bn in 2013, according to World Bank data.
Stiff competition
The remittance arm of the Philippine National Bank (PNB) arrived in Hong Kong in 1994.
DBS Vickers brokerage says PNB has the largest overseas network of all Philippine banks, with an estimated 20% market share of total annual fees from cash remittances.
At World-Wide Plaza, where businesses catering to Filipino expatriates are most concentrated, PNB Global is a major player.
But competition is growing, according to Raymond Evora, general manager of PNB Global in Hong Kong.
"This is already a commodity business. The competition is very stiff," he says.
Remittance companies need only require a simple business registration before starting operations.
Those start-ups send money through the networks of the larger banks that they compete against, for a fee.
About 40 other remittance outfits operate in the shopping mall, with names such as Czarina and Amazing Shop.
PNB Global charges HK$20 for every transaction.
Mr Evora says the biggest difference between service providers is the exchange rate offered.
Currently, one Hong Kong dollar buys about 5.6 Philippine pesos.
The companies that offer stronger Hong Kong dollar rates will get more customers.
"If we take this sitting down, it's hard to compete," Mr Evora says.
To counter the competition, PNB offers many incentive programmes, such as buying two transactions and getting the third free.
Customers also receive 50% off all remittances during their birthday month, in an effort to attract more clients in an increasingly cut-throat business.