When will the global and UK economies recover?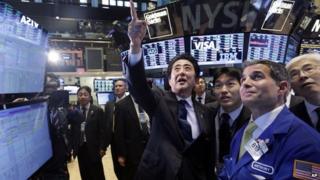 When will the global and UK economies recover? Crucially, when will it feel like it and how sustainable is it? I decided to find out for The Editors, a programme that sets out to ask challenging questions.
The world economy is recovering, with the International Monetary Fund expecting growth of 3.7% this year, and Britain's growth is the highest since the crash.
Comparatively, the UK is doing well. It is growing faster than other rich countries.
GDP is expected to recover to pre-crisis levels of income this year, but we have lost five years' potential growth and real incomes have fallen. Unemployment remains up and we have yet to see wages outpace prices, though that is also expected this year. That may explain why it doesn't feel much like a recovery yet.
Richard Koo, head of research at Nomura, says: "People still aren't borrowing money. This is a very difficult problem to get a hold of because it's a psychological problem. If it's a mechanical problem, you do this and something will happen. But if it's a psychological problem, you just have to keep on trying different measures until you get over the trauma."
How the UK and world economies fare depends on the engine, the United States.
The crash began with America's sub-prime housing crisis.
To deal with the worst financial crisis since the Great Depression, the US central bank, the Federal Reserve, injected plentiful cash and slashed interest rates to 0%.
Five years on, the Fed is winding down its cash injection, the quantitative easing programme. But unemployment is still up and interest rates are expected to stay low for some time yet. So has the economy really recovered?
The euro crisis was the second leg of the global crash, which evolved from a financial to a sovereign crisis in the continent.
The shock of the global financial crisis reverberated across the Atlantic and shook the foundations of the single currency. It raised existential questions for the euro, posing real challenges to its stability a decade after its creation.
Can a monetary union exist without a fiscal union? Do interlinked markets need a banking union? If there is a monetary/banking/fiscal union, should there be political union?
These questions are still to be answered, as well as the most important one: how to generate growth for the periphery of Europe.
It looks like Germany is pulling most of the weight while even France lags behind. Until countries such as Greece and Portugal can compete against the Germans, it is hard to see how they can grow sustainably without relying on unserviceable levels of debt.
Of course, the woes of the eurozone have hurt the British recovery since it is the UK's biggest export market.
Like the Fed, the Bank of England injected cash and slashed rates to a record low 0.5% to support the recovery.
Cheap rates tend to fuel borrowing, and that has risen. Levels of household debt are now at a record high, even greater than before the crash.
This is also seen in the UK housing market, which has been fuelled by the new Help to Buy programme.
House prices have risen rapidly and nearly recovered. Across the country, average prices are about £30,000 shy of the peak £200,000 reached in August 2007, according to the Halifax, the biggest mortgage lender.
So growth is picking up in the UK, but is it due to the old drivers (debt-fuelled consumption, housing boom that's also based on debt)?
I interviewed the Chancellor, George Osborne, who says that the UK must earn its way in the world and that a future where we borrow money from the Chinese to buy goods from the Chinese is not a sustainable future.
Mr Osborne is referring to the persistent trade deficit where the UK imports more than it exports and relies on borrowing to fund those imports, including from China. Those imports are at least partly driven by debt-fuelled consumption.
He says that relying on consumers for growth is a deeply ingrained problem that will take time to fix. In the Budget next month, he says that he will back business, investment and exports as the UK needs to raise its game.
If the recovery is unsustainable and worrying, what's the alternative? Without borrowing, how fast can we grow?
One country that has been through it is Japan. There has been a great deal of policy support (cheap cash and government spending) since its real estate and banking went bust, but the economy has remained stagnant, with falling prices and deflation.
Two decades after Japan's credit bubble burst, the banks are back on their feet and balance sheets are repaired. But economic growth is slow; could it be related to people and businesses that are now averse to borrowing?
Without relying on credit, an economy's growth rate depends on its population producing more to earn more and consume more. With an ageing population, that means a slower growth rate than before.
Japan has been stagnant for two decades and its population has been shrinking for a decade. For other ageing societies, it is a lesson to heed.
If an economy grows slowly, it does not create enough jobs - a big concern for Britain.
Although the unemployment rate is coming down, it is still about 7%. But if faster growth depends on debt, which could lead to another crisis, then it is hardly much of a choice at all.
However, perhaps one advantage for Britain is that it has always had an international outlook and been what economists call an open economy.
Trade as a share of GDP is about 40%, compared with 25% for the United States and Japan. So tapping into new growth economies could help, as 60% of the world's population is in Asia.
If the UK can export to the fastest-growing economies, it can benefit from other countries' consumers. Though it is bumpy and China also has debt issues, it is one answer to an unpalatable choice between a rock and a hard place.
Five years on from the banking crash, the British economy is most likely to recover this year and the world economy looks to be getting back to the rate of growth enjoyed before the recession.
Real wages are also forecast to grow for the first time. But how much we can expect incomes to rise is unknown and may depend on Britain rediscovering its global roots.
Watch The Editors on BBC One at 23:20 GMT on Monday 24 February or catch it later on the BBC iPlayer.