Fairtrade sales in UK rise 14% to £1.78bn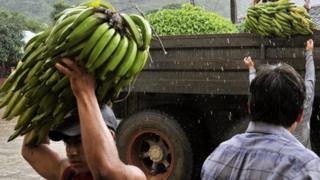 Sales of fairtrade products in the UK rose by 14% last year to £1.78bn, new figures have shown.
The Fairtrade Foundation published the figure ahead of a fortnight of events to promote the products and the benefits of buying them.
As part of Fairtrade Fortnight, there will be a campaign to highlight the low cost of bananas in UK supermarkets.
The foundation said a banana price war could force farmers in developing countries out of business.
Michael Gidney, chief executive of the Fairtrade Foundation, said: "It's 20 years since the very first fairtrade products appeared in the UK, and the appetite for fairtrade is still growing despite challenging economic conditions.
"The UK is truly a world leader for fairtrade and we're proud of that."
Sales of fairtrade sugar rose by 25% last year. Chocolate, cocoa and bananas grew by 52%, 5% and 4% in sales value respectively, whereas coffee and tea sales have continued to hold steady.
Other notable growth areas were fresh vegetables, 316% up over 2013, as many more products converted to become part of the fairtrade range.
Wine sales grew by 15% for the second consecutive year.
The UK has more than 4,500 certified fairtrade products on sales.
Price war
However, the foundation said that the price of bananas has almost halved in UK supermarkets over the past 10 years, while production costs have doubled.
It said that small farmers and plantation workers were "collateral damage" in a supermarket price war.
Mr Gidney described the price war as "aggressive", saying: "We are calling on the government to investigate this dysfunctional market, because it is unfair.
"A product that is worth billions of pounds in global trade relies on poverty-level income for the people who grow it."
However, a spokeswoman for the Department for Business, Innovation and Skills, said: "We fully recognise the positive impact that the fairtrade brand can have on consumers' shopping habits and in raising awareness of supply chain issues.
"However, it is not our policy to get involved in price-setting. The price that people pay at the checkout is down to the supermarkets.
"If there was a case for a competition issue then the Office of Fair Trading would be able to consider investigating," she said.
Judith Batchelar, a director at supermarket Sainsburys, said: "As the first major supermarket to switch to selling only fairtrade bananas in 2007 and as the largest retailer of fairtrade products in the world, we ensure a fair deal for tens of thousands of producers and their communities.
"Not all supermarkets are the same, and everyone who buys a banana from Sainsburys knows the grower is getting a fair price, as set by fairtrade and a fairtrade premium goes to their community."